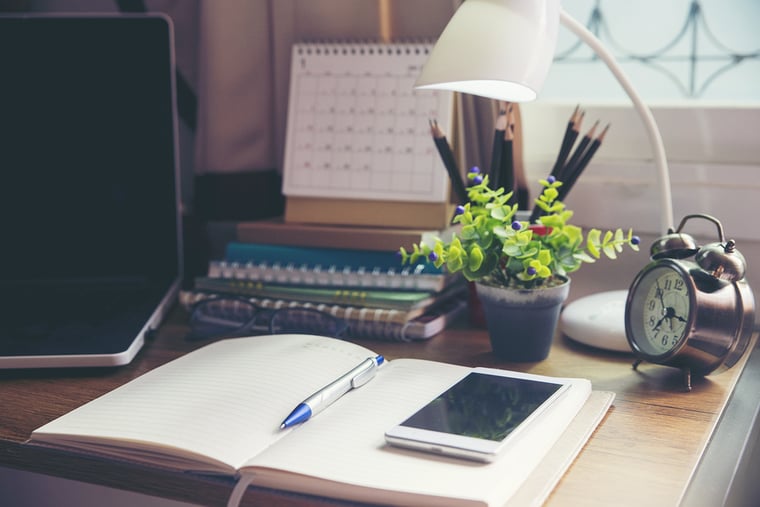 Musicians, artists, writers, designers, and beyond — unleash your creative potential with an inspiring space that fills you with ideas and ignites your passion for creating. No matter the size of your home, you can maximize your creativity and inspiration by transforming a room into the ultimate space. Here are a few helpful tips to enhance your work space at home:
Surround Yourself with What Inspires You
Whatever your dream is, keeping inspirational décor near your workspace can help you stay motivated. Musicians may keep framed photos of their favorite bands on the wall or writers could keep a small bookcase of their favorite books on the shelf. Anything that inspires you — even encouraging notes, awards from pervious accomplishments or finished products of your previous creations — can surround you with positive energy.
Be Sure not to Allow Clutter or Distractions
Keep in mind that your creative space needs to let productivity flourish. Don't let procrastination creep in via clutter or distractions. For instance, if you place your favorite books in your space, fight the temptation to read them and focus instead on writing.
Make the Tools of Your Trade Accessible
Organization is key to keeping your creative juices flowing. No matter which medium you create in, make sure all of your necessary supplies are easily accessible and organized. Even if you cannot store these items in your work space, making them readily available when you need them will help you stay focused.
Don't Let Disorganization Get in Your Way
Some say that a cluttered space can clutter your mind. It's okay if your creative space looks a little chaotic, but remember that too much disorganization can distract and deter your work. A lack of physical space can limit your abilities and it can also negatively impact your mental state. Keep your space tidy for maximum inspiration. Another approach is to consider a minimalist or open-concept design plan that contains just enough to keep you motivated and productive.
Use Color to Stimulate Your Mind
Color affects us in different ways. In fact, certain colors can stimulate our creativity when brought into a space correctly. Yellow sparks energy and happiness. Green brings harmony and is easy on your eyes. Blue helps you focus. Integrate these colors in your preferred shades to help you concentrate on creating.
Ensure Proper Lighting
Any work area needs sufficient light. Standing lamps, overhead lighting, desk lamps and mounted fixtures are great for task lighting, but it's also important to incorporate natural light. If you live somewhere with lots of sun, like Las Vegas, window shades are a great addition, as they allow you to control the level of sunlight that enters your home. Some of the benefits of these shades include:
Protection from UV rays

Glare reduction

Versatile fabric, pattern, design, and colors styles to suit any interior

Variety of

fabric openness factors

Motorized configurations available
If you're interested in installing window shades in your home, contact us at 702-260-6110 to schedule a free consultation today.