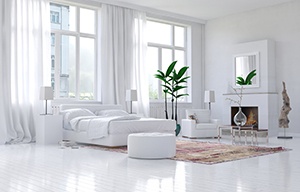 We all know the benefits of a good sunblock for protecting our skin from the harsh rays of the sun. Without it, extended exposure to direct sunlight will cause skin to prematurely age and develop discolored spots. There's even protective clothing we can wear with the same sun-blocking capability.
Sunlight loves eating away at color, and harsh sun rays can cause the same damage to your home's furniture and furnishings as it does to your skin. If your upholstery, wood furniture, or carpeting is exposed to long-term sunlight, you've most likely already seen the way the sun affects it – faded fabrics and discoloration around the items on a table or shelf. Even your artwork, lampshades, and books are at risk.
The good news is, just like medical advances have created better sun blocking lotions for our skin, similar technologies are being used for window treatments such as shades to help save furnishings from sun damage.
UV Rays and Fabric Fading
Not all upholstery fabrics fade within the same amount of time. Cotton, polyester, nylon, and acrylic blended wool fade less quickly than linen and silk. Harsh UV rays also damage and fade darker colors more quickly than lighter colors. One fabric particularly susceptible to sun exposure is leather which, over time, fades, cracks, and stiffens. Unfortunately, once leather dries out, it is almost impossible to heal or restore.
Best Sun Damage Protection & Prevention
The most effective preventative measure is to keep furniture and furnishings out of the direct sun. The right window treatments can both protect your home's interior and add style and flair to your windows. At Polar Shades, we offer the ultimate in sun control products for effective management of sunlight damage.
We use various fabrics, patterns, and openness to filter direct sunlight and manage the sun's heat and glare. Our interior and exterior shades are the perfect solution for protecting your investment. Retractable shades make any room more comfortable by eliminating heat and glare at the hottest time of the day.
Fabric Choices
Sun control fabrics filter and diffuse harsh UV rays and reduce energy consumption. Lighter color fabrics are more energy-efficient than darker ones, but they may also cause more glare and reflection. Darker fabrics absorb more heat into your home's interior, but reduce glare and reflection, enhancing your view.
We offer a wide selection of beautiful energy-efficient fabrics in our Polar Shades Fabric Inspirations Collection. All of our shades filter natural light, provide solar protection, control glare, and reduce solar heat gain. Keep in mind while higher openness fabrics will allow more natural light inside, lower openness will block more harmful UV rays. The benefits of light filtering fabrics include solar protection and natural light filtration, while blackout fabrics provide complete glare control and UV ray elimination.
If you'd like to learn more about why shades are the best window treatment solution for protecting your home's interior, download our free guide today.