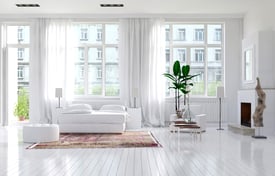 Perhaps your home needs an updated look and you have decided your window shades are the perfect place to start. With the addition of drapery tracks, your home can instantly be transformed, both in look and feel. After all, your windows are a big focal point of your home and can make your space look more homey, add elegance, as well as provide privacy. With the addition of Glydea Range for drapery motorization from Polar Shades, the benefits of drapery tracks will surely shine.
Easy Installation
This motorized option, which operates quietly and has several speed options, is wonderfully convenient and installation is very easy. With the option to install the motor either to the left or the right side of the track, as well as the option for the draperies to open to one side or be split to open on both sides, drapery tracks allow several options.
Flexibility
Glydea Range motorized drapery tracks work for all types of window shades, making it easy to pick the perfect shades to go in your home. Choose from several different types of draperies, including Accordia, Ripplefold, and Pinch Pleat.
Extends Life
Utilizing Glydea motorized draperies helps to extend the life of your draperies by eliminating the need for manual operation. However, they also offer an impressive touch motion feature, which allows you to set in action the motorized drapery just by a simple pull on the fabric.
Provides Protection
Glydea drapery tracks provide privacy, as well as glare reduction. They also help to lower energy costs and protect your home furnishings from UV rays that can cause damage to your belongings.
Control Compatibility
These motorized drapery tracks can be used with a number of different types of controls. These include table top controls, handheld remotes, timers, and wireless wall switches.
Remember when shopping for window covering products, it's important to find shades that will work best for your space. At Polar Shades, we will even install your brand new shades. For a free in-home consultation, don't hesitate to contact us at 702-260-6110. You'll also find our shades vs blinds guide handy, when making the decision between shades or blinds in your home.