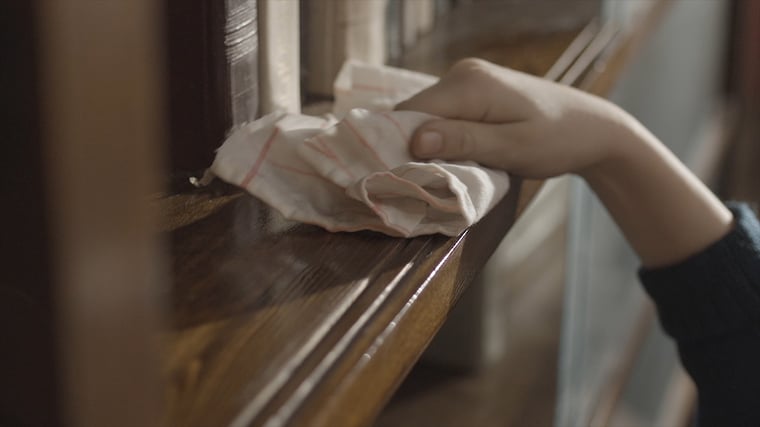 The recent COVID-19 pandemic has all of us spending more time at home and focusing more of our efforts on keeping things clean. If you're ready to take this year's spring-cleaning projects to a whole new level, you'll want to make sure you add the following 5 projects to your "to-do" list
1. Ceiling Fans
Your ceiling fans might not look dirty when they're running, but turn them off and you'll likely be surprised by just how much dirt and dust has collected on the blades. There are many inexpensive ceiling fan cleaning tools on the market today that will make this project a cinch.
However, if you don't have a special tool handy, you can simply hop on a step ladder and wipe each blade with an old pillowcase. This will help collect the dirt, so it doesn't fall on you or your furniture. Once you've got the bulk of the dirt off, use a soft cloth and warm, soapy water to gently wipe down each blade and the base.
2. Window Shades
No matter what fabric your window shades are made of, simply wipe them down with a soft cloth dampened warm, soapy water. Then rinse them off with a clean damp cloth. Wash and rinse one section at a time, starting at the bottom and working your way up. When the whole shade is clean, leave it fully extended until it dries.
Alternatively, you may consider purchasing a rubber brush, also called a dry brush, from your local home store. This handy tool is very effective for removing dirt and dust from fabric shades. Whichever method you choose, t's very important that you never soak fabric shades or apply spray cleaners directly to them, as this can cause serious damage.
3. Book Shelves
It's easy to ignore shelves covered in books and decorative items, but this is also a place that collects a lot of dust. Starting at the top and working your way down, completely clear each shelf, dust the shelf itself and then dust each item before putting it back. Bonus points if you take this opportunity to declutter and get rid of things that no longer serve a purpose.
4. Grout
Dirty and dingy grout can completely change the look of your home. The crazy thing is that you might not even notice how bad it was until you've returned it to its like-new appearance. Luckily, it's easy to do!
Start by using hot water and a stiff bristle brush to remove surface dirt. Then, create a paste with 2 parts baking soda and 1 part hydrogen peroxide. Apply this to your grout and let it sit for about 15 minutes. Then, scrub again and rinse with a cloth or sponge dipped in hot water mixed with a few drops of dish soap. When you're done, it will look as good as new!
5. Nobs and Handles
Lastly, you can remove a lot of dirt, grime and germs from your home by paying attention to all of the nobs and handles that are often neglected. This includes door handles and nobs, appliance handles (oven, refrigerator, dishwasher) and cabinet pulls. Start by wiping them down with warm, soapy water, then use a disinfectant wipe to kill any remaining germs.
Once your home is sparkling clean, you might want to add some smart upgrades, including new interior shades. Our interior shades come in a wide variety of colors and styles, so you'll have no problem matching them to the rest of your home design. Contact us today at 702-260-6110 to schedule a free, in-home consultation.