During the summer months, it can be a struggle to keep your home cool without racking up large energy bills. But with interior and exterior window shades, you can reduce the heat in and around your home, which means your HVAC unit doesn't have to work as hard to keep you cool. Not only does this reduce your energy costs, it also allows for increased privacy, greater enjoyment of outdoor spaces in all types of weather and fewer UV rays.
Window shades are a one-time investment that bring years of benefits. In addition to the many functional advantages of shades, they also elevate the aesthetic of your home by adding a touch of modern luxury.
Choosing the Right Fabric for Your Window Shades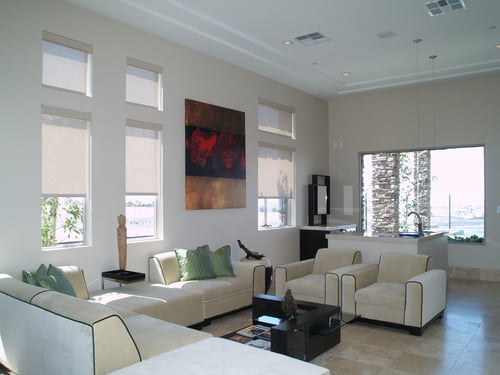 Polar Shades offers many fabric options to accommodate a wide variety of needs and preferences. It is common for buyers to choose different fabrics for different rooms in the house, depending on the shade openness factor. Fabrics with a high openness factor let in more light, which is useful in living rooms and sunrooms, while fabrics with a low openness factor are great for providing more privacy in bedrooms and bathrooms.
For rooms that need to block the sun, as well as let light in during different times of day, Duo shades are a popular choice. This is ideal for bedrooms or home theaters, as you have a blackout shade for when you want total darkness (while sleeping or watching a movie) and an open weave shade to allow plenty of sunlight in when desired.
Polar Shades interior window shades feature light-filtering technology that allow light to filter in even when the shades are closed. This means you don't have to sacrifice privacy for sunlight.
Exterior Shades
We offer versatile exterior shade options that are compatible with virtually any exterior design. These block the sun, glare and UV rays, which increases shade and reduces the heat around your home. This enables you to enjoy your outdoor living space more during the summer months.
For even greater heat reduction, there's the revolutionary ZipRite Shade. This shade extends all the way down to the ground and zips from top to bottom, creating a fully enclosed outdoor room. This is ideal for all types of weather, as it keeps you protected from the sun and other elements, as well as bugs and debris.
Our exterior and interior shades come in both manual and motorized configurations. Motorized options can be scheduled to open and close automatically at certain times of day. They can be controlled with a remote or integrated into your smart home control system.
With Polar Shades, selecting the right fabric, pattern and style has never been easier. We offer a large variety of options, so you can choose the shades that perfectly accentuate your home's interior and exterior design. Schedule your free, in-home consultation by contacting us at 702-260-6110 today!