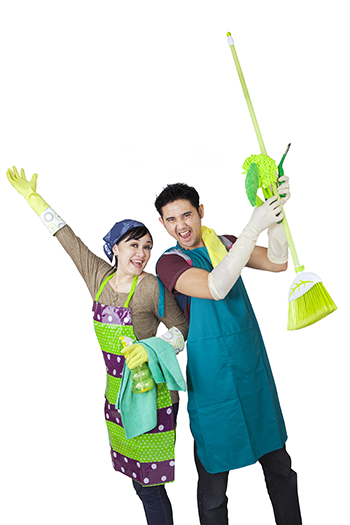 As the days grow longer and the temperature steadily warms up, most see spring as prime time for deep cleaning. A deep spring clean can be rejuvenating for both your house and everyone within, as you physically sweep out all of the dust, dirt, and grime that's accumulated over the winter months.
From a health perspective, a thorough spring-cleaning helps eliminate particulates that cause illnesses and exacerbate symptoms of asthma and allergies. Psychologically, opening up your home to the fresh air and sunlight while simultaneously letting go of clutter will improve your emotional and mental well-being.
Before you grab the rag and mop bucket, you'll want to create a game plan to ensure your household gets the best clean possible. So be sure to add the following, oft forgotten, spring cleaning tasks:
Spring Cleaning Tasks You Shouldn't Forget About
Dishwasher Even though the purpose of your dishwasher is to clean things, it also needs its own cleaning now and again as all of the grime from your dishes can build up on the interior of your machine. To wash the dishwasher, fill two coffee mugs with white vinegar and place one on the top rack and the other on the bottom. Run the dishwasher on hot with only the two mugs. The water will overflow them, slowly cleaning the dishwasher with the vinegar's acidity.
Stove burners Your stove burners are subject to a greasy mess during cooking, and are often in much need of a good cleaning. Cut through the crud by removing your stove burners and putting them in a plastic bag with a cup of ammonia. After an overnight soak, take a light sponge and watch the grease build-up fall away.
Fridge coils The area underneath your refrigerator is notorious for collecting dirt and grime. Do a serious deep clean in this area at least once a year. Use a vacuum or shop vac to pay special attention to the fridge's coils and suck away all of the built-up dust and debris.
Mattresses There are two primary methods for refreshing your mattresses. For a full cleaning, take your mattress outside, beat and vacuum it, and then let the sunlight and spring air freshen it before placing it back on your bed. For an easier refresh, use a kitchen strainer to pepper baking soda over the top side of the mattress. Let sit for an hour or two before vacuuming this odor-absorber using an upholstery attachment.
In addition to a spring deep clean, you might also consider rejuvenating your home with new window coverings. Special Sun Control shades from Polar Shades help let natural sunlight in while keeping out UV rays and harsh glares out. To learn more about these window shades, or to request a free in-home estimate, contact us at Polar Shades today.