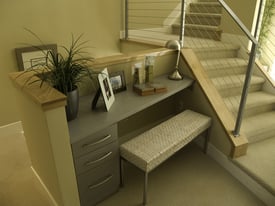 There's a nationwide search taking place, and your household may be swept up in the excitement triggered by a single question: Where do we put the computer? Like many families, you may have given up on the idea of a full-scale home office; there's no room for that. You may have given up on a smaller-scale home office "space"; there's no room for that, either. Don't give up on the idea of a home office "nook" because you'll be relieved to know: there is room for that – if you can find at least 3 feet of space and muster your best creative energies.
If you're doubtful, you should begin to build hope after inspecting your home, room by room, inch by inch, through discerning eyes. That 3-foot space may be bare now, without the benefit of a desk or even a counter. Or you may have to move some things around to accommodate a nook. But don't throw in the towel, especially because one of these five nifty nook ideas involves carving out space in your kitchen.
1: It's all too easy if your kitchen already has a built-in desk, but a butler's pantry may afford you even more room for an office nook. If you have room for a bistro table in your kitchen, then you can create a nook that will blend in seamlessly when you coordinate it with your kitchen's color palette.
2: The space next to a fireplace is a natural spot for an office nook – and in the winter, a potentially warm one, too. You may have shelving or an entertainment center there now; after you slide in a comfortable chair, this is an office nook you'll light up over.
3: Another nifty office nook may be sitting right before your eyes in the form of a armoire, storage cabinet, server or sofa table. You probably have overlooked it because it doesn't look anything like a traditional office desk (plain and boring). This is reason to celebrate; you should get a bigger kick from working there, too.
4: Capitalize on space in front of windows. Don't view a window as an obstruction. In fact, it's the exact opposite: a grand opportunity to wedge a desk or create a "floating desk" on top of storage cabinets. You'll appreciate the natural sunlight, too, especially if you add the proper window shades to filter light based on the window's exposure.
5: Converting a closet is like grabbing the brass ring of office nooks. Yes, you'll probably have to find another space for the things you have stored there now. But when you remove the closet door, just look at that cozy, carved-out space, with a long expanse for a desk and room for floor-to-ceiling shelves. It's worth every bit of shuffling you may have to do.
Install Window Shades in your Home
After you've found the right place for your nifty office nook, be sure to pose the follow-up question, "How do we expose it to the best lighting conditions possible?" Call Polar Shades at 702-260-6110 for a free in-home consultation so they can help you make the right choice – because every nifty nook deserves a nifty window look, too.