When it comes to window treatments, it's one of those things you don't give much thought. However, they don't last forever, which means they need to be replaced from time to time. Make note of the following signs to let you know when it's time to replace your old window treatments.
Raising Your Window Shades is Problematic
Difficulty raising your shades may be indicative of more serious issues, such as the lifting mechanism. This means your shades may be on the verge of breaking and could fall from your window, posing a safety issue.
The Edges of Your Shades are Frayed
Fraying along the edges of your window shades means your shades are too wide for the window space. Since scraping against the window opening causes the frays, this will continue to happen until you replace them with shades appropriate for the opening.
The Cords are Frayed
Frayed cords either mean your window treatments are old and worn out or there is an issue with the internal mechanism. Either way, they are damaged and in danger of falling, and should be replaced.
They Aren't Meeting Your Needs
If your window treatments aren't blocking enough sun, aren't giving you as much privacy as you desire, or aren't shielding you enough from the elements, it's time for new shades. After all, if they aren't serving their purpose, they aren't any good to you.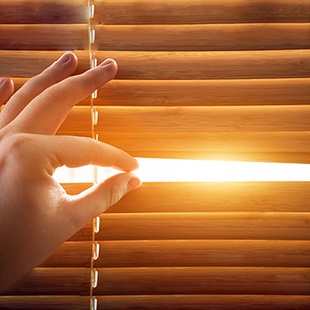 The Style is Dated
Dated window treatments not only make your home look dated, they are also likely worn out. The average life of window treatments is seven to eight years, so looking outdated is a good indication it's time to purchase new ones.
You've Recently Replaced Your Windows
New windows often mean new depth, which means your current window treatments likely no longer fit the window space correctly.
Remember, when shopping for window treatments it's important to set a budget prior to shopping. This way you know how much you can spend and you only look at window shades within your budget.
At Polar Shades, we make getting new window shades easy and convenient, even installing them in your home. Contact us to learn more about our window treatments and to find the ones that best meet your needs and budget.