Shades or Blinds?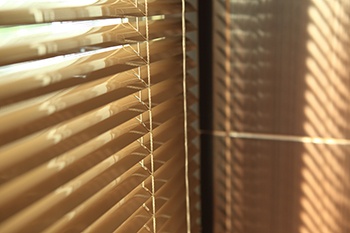 The physical differences between shades and blinds are simple to see, but the distinctions are far more than cosmetic. While many people do use one word for the other without really thinking about it, the two types of window coverings differ in substantial ways. In the great shades vs. blinds debate, one of your top considerations should be what you hope to achieve with respect to privacy, light, or both.
The right window treatments are a big part of your home's overall style and comfort, so making the right choice is an important decorating decision. If you're uncertain about the differences, or just need some more information before making up your mind, here are some factors you should take into account.
Light Blocking

Every room of your home may need a different level of light, sun protection, or privacy. If you want a lot of natural light, sheer shades are a beautiful choice. On the opposite end of the spectrum, blackout shades give you a completely dark room perfect for uninterrupted sleep. A happy medium is the Polar Shades Select Duo Shade. It gives you the best of both worlds, with a sheer and blackout shade contained in one single housing. If you have furniture you want to protect from direct sunlight, solar shades may be what you're looking for.

Room with a View

Do you have rooms with stunning views? Consider shades that remain out of sight when open. And don't forget – a view works both ways! When you need privacy, but still want to let in light, shades come in a variety of fabrics, patterns and openness.

Insulation

If it's energy efficiency you're looking for, cellular shades are designed to capture cold air, which helps keep your heating costs down. Solar shades block UV rays and help keep rooms cool in the heat of summer.

Time Saving Advantages

Shades have fewer components than blinds, making them easier to operate: Choose a motorized shade for even simpler operation. Shades also save time over blinds when cleaning. Blinds tend to collect dust in hard-to-reach corners, while shades can usually be lightly vacuumed or wiped down with a damp sponge.

What About Cost?

Shades and blinds have a wide range of costs. Depending on your budget, you can mix and match different shade styles throughout your home. For example, if you have any hard to reach windows, spend more to install automated window shades for them. Don't forget to factor in energy savings when calculating your final price.
Shades Offer More Advantages
At Polar Shades, we believe the wide range of available options make shades your most attractive window treatment choice. Simple to operate and beautiful to look at, there's bound to be the perfect shade for each room in your home. To learn more about the differences between blinds and shades, download our Shades vs. Blinds guide, which will make your choice a clear one.