Appropriate lighting is the most overlooked feature in a home office. With more people working from home, it is essential to ensure your office is well-balanced. Home offices can have better ambiance than traditional office spaces with a little effort. Understand the different types of lighting and how to make the best use of each to maximize your productivity.
Types of Lighting
Artificial light is essential in a home office during the night. A simple secret is selecting lighting fixtures that offer a dimming option so you can choose the amount of lighting you want. You also need a general lighting fixture so you can see when moving around the room. Task lighting is an excellent choice for your desk because it focuses on your workspace, allowing you to fully concentrate on your work.
Unlike traditional offices that usually have small windows and only overhead lights, your home office will have more natural light you can take advantage of. Large windows let in a lot of sunlight, allowing you to see comfortably during the day. You can also open up the windows to let in fresh air while working.
Using Interior Shades to Manage Light and Heat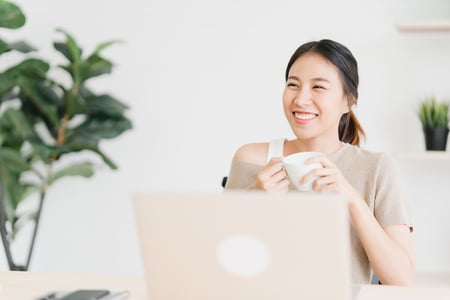 Interior shades are a fantastic way to control the amount of light while also reducing glare and heat in your home office. The right lighting can improve productivity and reduce fatigue. Although natural light is great, too much of it can lead to headaches, distractions and eye strain. The secret is to invest in quality window shades that diffuse light and reduce heat absorption, keeping you comfortable and reducing your energy bill.
A bonus to getting the right interior shades is that they will add style and comfort to your office. Traditional offices lack bold or warm colors that create cozy feeling. Check out various textures and colors of fabrics to find the stylish fit that will boost the ambiance of your space while you work.
Where to Buy Interior Shades
Polar Shades Sun Control is a manufacturer of interior and exterior shades for commercial and residential customers. Our company supplies shades all over the U.S. and Europe. Our high-quality fabrics are durable, beautiful, and effective in reducing glare, heat, and moderating light. Call us at 702-260-6110 for more information or to schedule a free, in-home consultation.