As summer comes to a close, the days are getting shorter. But, that doesn't mean that our busy lives stop at sundown! Updating your exterior lighting can make spending evenings outside more pleasant while giving more visibility around your home after dark. Here's what you need to know about lighting up your outside spaces: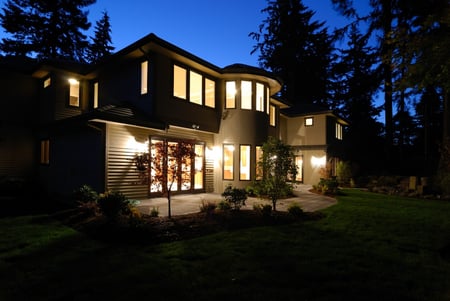 1. Path Lighting Whether you're illuminating a humble driveway, so you can park easily or creating a welcoming walkway to your front door, path lighting is one of the easiest ways to guide guests around your entryway. One simple option is solar-powered lamps that are pressed into the ground, so no electrical work is required. However, be sure to choose shielded models that direct light down toward the path for the best effect. Or, take it up a notch with strip lighting that can be concealed into the edging of your paths for a gentle glow.
2. Lanterns & Pendants With so many styles to choose from, finding a lantern you love has never been easier. There are a couple of points to keep in mind, however, for optimal comfort. First, avoid clear glass to reduce glare. Instead, frosted or decorative glass will illuminate without the need for squinting. You'll want to follow the same guidelines for hanging pendants and avoid bare bulbs unless they're dimmable.
3. Spotlights By brightly lighting large spaces, spotlights are excellent for added security and for highlighting decorative outdoor areas after dark. The key to getting spotlights right is placement. The last thing you want is to blind your guests. Always direct the lights toward your home or directly at a feature and be sure to avoid shining them right into a window.
4. Downlights Most downlights are excellent interior choices, as they distribute light in a wide pattern and can brighten large areas. Outdoors, on the other hand, can make that broad distribution lead to glare and discomfort. To get the best effect from outdoor downlights, choose a recessed model – not flush mounted – and add a dimmer. That way, you can use just enough light to create a softly lit space that's pleasing to the eye.
Finishing Touches
When the sun starts to set, give yourself a bit of privacy with a stylish decorative addition. Window shades not only allow you to filter light, reduce heat and glare and maintain privacy, but they look great as well. Contact us at 702-260-6110 to schedule your free, in-home consultation today.