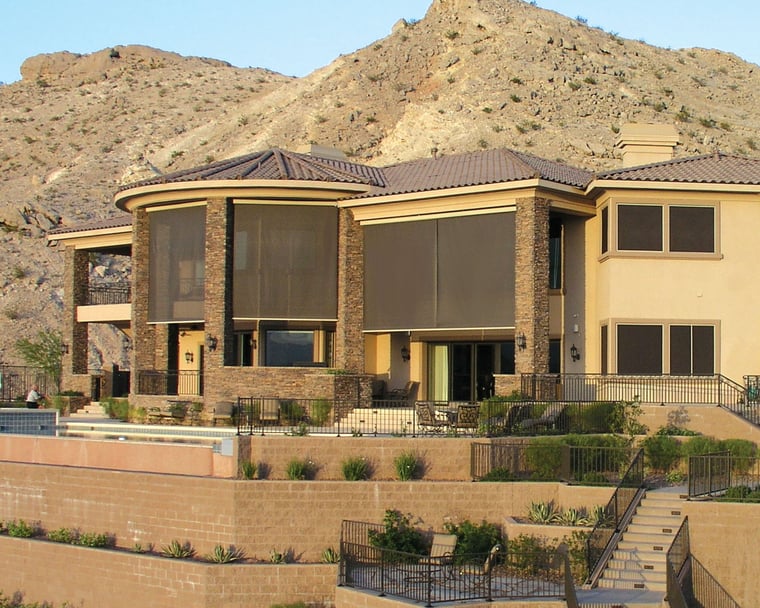 Just because summer is ending, that doesn't mean your enjoyment of the outdoors has to. Exterior shades block the sun and UV rays, so you can stay comfortable while spending time on your porch or patio, no matter the time of year.
The Patio Roll Shade is an exterior shade that has 3 configurations: standard open roll shade, curved patriot hood, and Titan 5.5" cassette. It is the ultimate choice for those with large outdoor living spaces, as it offers many benefits.
Benefits of the Patio Roll Shade
Size

The Patio Roll Shade is customizable to fit nearly any opening. The shade has a width of up to 20 feet and a height of up to 18 feet. You can even mount two side-by-side to cover extremely large openings.

Available in ZipRite Track

There are several track options for the Patio shades, including our revolutionary ZipRite track, which seals the edges of the shade to create an enclosed outdoor room. You can enjoy this all year long, as it protects you from the elements, bugs and debris.

Custom Color Option

The Patio Roll Shade hardware comes in five standard colors: tan, white, sand, camel, and bronze. However, it can also be custom powder coated to match your exterior aesthetic. For the shade itself, there are a full line of fabrics to choose from in a wide variety of colors.

Home Automation Integration Option

Polar Shades's motorized shades are compatible with Somfy MyLink, allowing you to adjust the shades from your smartphone or tablet. It can also be integrated with Amazon Alexa for hands-free control.

Lifetime Warranty

All Polar Shades products are manufactured using the highest quality materials to provide superior performance. Our shades are also backed by one of the best warranties in the industry for durability you can rely on.
At Polar Shades, quality is our guarantee. All of our products are manufactured in the U.S. and meticulously inspected for any flaws before leaving our factory. If you're ready to start enjoying your outdoor space more, contact us at 702-260-6110 to schedule a free, in-home consultation to see if the Patio Roll Shade is right for you.