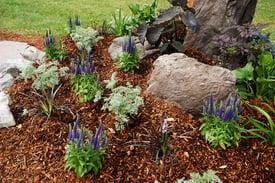 Gardeners understand the love-frustration-reward bond that develops with a vegetable garden. In the spring, the ground cannot get warm fast enough. You till the soil and dig and plant, then you wait and wait for seedlings to emerge. Finally, you're rewarded with a harvest of vegetables – and an ensuing harvest of weeds to keep you hopelessly but blissfully tethered to your garden.
The fall is a bittersweet time – a time to prep your vegetable garden for winter before you start the process all over again. Give your green thumb one more workout and:
Clean up with care
Spent plants can attract pests and funguses, so remove them while you pick up leaves. You can even bury these plants in your garden to add organic matter, which bolsters the health of the soil. However, leave a few stalks standing from the brassica family, which includes broccoli, Brussels sprouts, cabbage, cauliflower, kale and radishes. These plants release cyanide compounds that can deter wireworms in the spring.
Check the soil's pH level
Pick up a pH kit at a home improvement store so you can begin enriching your soil, if need be. Vegetables thrive in slightly acidic soil, meaning the pH level should register between 6.3 and 6.9. If the pH level of your soil is too low; add lime; if it's above 7.5, add elemental sulfur. Both are organic substances that will take root over the winter to help your vegetables flourish next summer.
Plant garlic now
Do it once and don't be surprised if you become hooked on this natural gardening wonder. Plant garlic cloves 3 inches deep and spaced about 6 to 8 inches apart. Each clove should sprout a full head of garlic by next summer.
Add compost or manure
Gardeners understand the value of these nutrients. Place a 1- to 2-inch layer of compost or manure over the top of your vegetable garden. Then, if you care to, add another, lighter organic material – straw is a particular favorite – to deter springtime weeds.
Top your garden with mulch
Replenishing the mulch in the fall helps keep the below-ground temperature regulated (just as it does in the summer). Wintertime mulch pays the extra dividend of protecting the soil against temperature fluctuations. Even better: as the mulch breaks down, it adds even more organic material to the soil.
Complete your patio with ZipRite shades
By the time you're finished prepping your garden for winter, it will look a little barren. This is part of the love-frustration-reward relationship, too. You can fortify the first element by adding ZipRite shades from Polar Shades.
These shades cover openings up to 24 feet wide and 14 feet tall and allow you to enjoy your deck or patio all year long. Call 702-260-6110 and make an appointment for a free in-home consultation – and discover how ZipRite shades can fill the void of activity left by your vegetable garden.