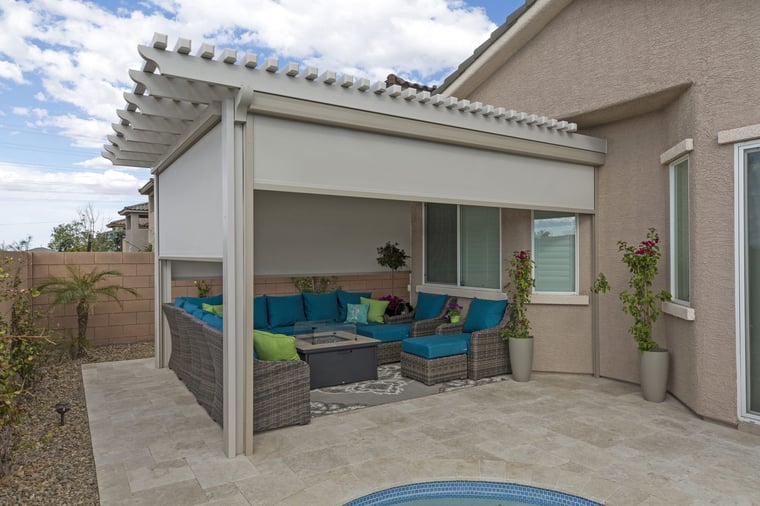 Make the most of the final days of summer by spending more time outdoors. Adding more shade to your yard and patio will allow you to enjoy being outside more. Here are some affordable ways to increase the shade in your outdoor living spaces:
Plant Tall Trees
Large trees are a great way to not only add shade to your yard, but also add aesthetic appeal and attract birds and other animals. Some of the best types of trees for desert yards that also provide ample shade include sissoo, ash, olive, and tipu.
Install Exterior Shades
Exterior shades come in a variety of sizes and configurations to block the sun and UV rays, which keeps your furniture from fading and reduces heat. This not only makes your outdoor space more comfortable, but also saves you money; the decreased heat around your home also means decreased energy bills, as you don't have to keep you're A/C running all day to cool it.
Add a Pergola
Pergolas are archway-like structures that add shade to walkways and gardens. They often feature open lattices overhead, perfect for adding vines or other climbing foliage, such as honeysuckle or jasmine, to create shade and bring beauty to your yard. Alternatively, you can weave a sheer fabric into the lattice in place of greenery to offer shade while also allowing sunlight in.
Patio Umbrellas
A popular method of shading outdoor dining or sitting areas, umbrellas also add personality and style. They come in a variety of colors and designs that are vibrant and eye-catching. Most outdoor umbrellas are freestanding, but you can also find outdoor dining sets that include tables with holes in the middle to stabilize the umbrellas.
Mount Retractable Awnings
Retractable awnings can be mounted on just about any opening. Polar Shades's awnings are secured using powder-coated steel and aluminum support systems, so you don't have to worry about clunky posts. We've partnered with award-winning companies like Sunbrella to ensure our products are made with the best materials on the market. With over 200 color options, retractable awnings offer the ultimate comfort and versatile styling.
Polar Shades is constantly innovating to create the most durable, versatile and reliable sun control products for our customers. Contact us today at 702-260-6110 to schedule a free, in-home consultation and find the right shades and awnings for your outdoor living space.