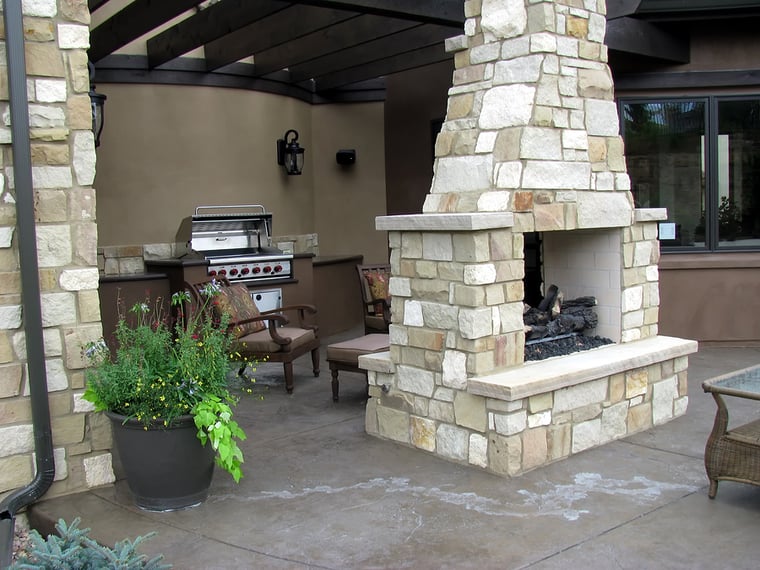 With its breathtaking beauty and cooler weather, fall is an ideal time for an outdoor party. While nature will decorate your fall party with colorful foliage, adding a few specific features will make hosting an outdoor party more convenient and enjoyable. The following are some essentials that will get your patio ready for entertaining:
Ideal Patio Features for an Outdoor Party
A Patio Grill

Whether you're having a small gathering or large party, a fun way to engage your guests is to get them in on the cooking process with a fantastic patio grill. A grill station is a staple of a good patio party for many reasons: Firstly, it provides the opportunity to enjoy the atmosphere outside. It's also great for socializing, as it allows hosts to be present and engaged with their guests while cooking, instead of confined to the kitchen. It also enables guests to enjoy the sights, sounds and scents of the food being prepared.

A Fire Pit

Adding heating to your patio will extend the use of your outdoor space when the sun goes down, while adding coziness and ambiance to the area. A fire pit is a popular feature to consider; in addition to keeping your guests warm and comfortable, the fire will be an excellent focal point for them to gather and mingle. When choosing a fire pit, be sure to consider the size of your patio, as well as the budget you're working with, so you can select the option that is ideal for your space.

Lighting Fixtures

During the fall, the sun tends to go down earlier. So, one of the best ways to make your patio party-ready is to add lighting fixtures to ensure the area will be beautifully illuminated at night. String lights, flickering lanterns and mounted fixtures are all popular choices for the patio.

Exterior Shades

Exterior shades help you control the temperature of your outdoor space during the daytime and afternoon. By blocking the sun, they prevent solar heat from reaching your patio, which creates shade that helps keep it cool while the sun is up. In addition, exterior shades will also protect your patio furnishings by blocking UV rays. This means your patio furniture will retain its vibrancy for longer.
If you'd like to get your patio party-ready with exterior shades, Polar Shades has got you covered. Our exterior shades are made using the highest-quality materials for superior protection and durability. Contact us at 702-260-6110 today to schedule a free, in-home consultation.