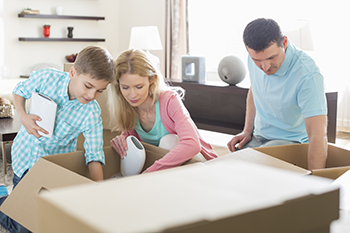 Congratulations on your new home! Now that the paperwork's been signed, the next steps can seem daunting. To help you get an idea of the best new home must-dos, consider the following helpful list:
Install ceiling fans where possible. Ceiling fans are an excellent low-energy way to keep air circulating throughout your home to improve ventilation and reduce the amount of your home's energy usage. During the summer, fans should rotate counter-clockwise to create a wind-chill effect that will make your home feel cooler. During the winter, rotate fans clockwise to force warm air down.
Check toilets, faucets, and plumbing for leaks or constant running. Before you settle in to your new place, check all of the plumbing for any annoying drips and leaks. Repairing drips can save you money and a headache. Even a small leak, when left unresolved, can cause significant structural damage to your floorboards and joists.
Grab a lawnmower and yard supplies. Unless you plan on hiring a gardening company or prefer rock gardens, you're going to need to invest in a lawnmower. Also consider heading to the neighborhood hardware and garden store for yard maintenance tools like a garden hose, push broom, and weed-whacker.
Change the lock and make spare keys. While you're at the hardware store, purchase a new set of doorknobs and locks for your front, back, and any other entry doors. It may seem unnecessary, but ex-house sitters, estranged relatives, or the previous homeowners might still have a key copy. Enjoy a greater peace of mind and protect yourself from potential burglaries by nixing the doubt and getting a new set.
Replace your air filters. This is a ten-minute fix that can make a world of difference in your air quality and energy bills. Simply find your filter and mark down the appropriate measurements. Then head to the store and pick up the appropriate replacements. Once installed, air filters should last three months when your HVAC equipment is operating as normal.
Window coverings. This is one of the more common items forgotten by new homeowners, that is until the sun sets. From blinds to shades, window coverings are a key component of styling your home and improving your privacy. Buying the right window coverings will take a bit more time than picking out the aforementioned air filters, but the right purchase can greatly enhance your home.
To learn more about what the right choice is for your home, check out our guide Shades vs. Blinds: What's the Right Choice for you?