Motorized shades by Polar Shades provide so many more benefits than simply managing sunlight.
Check out the benefits of installing our customized motorized shades in your home or business: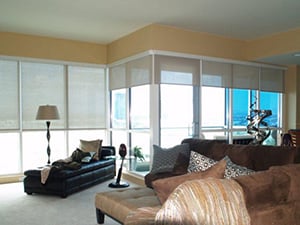 Automated convenience. The days of manually raising and lowering shades from room to room are over. Now you can program shades to operate automatically and simultaneously. It's even possible to remotely control the operation of your worry-free shades from your smart phone or computer.
Security. Even when you are away for days at a time, your motorized shades keep working. The appearance that someone is occupying the property discourages potential intruders.
Energy savings. Shades automatically adjust your property's exposure to the sun and also reduce heat buildup throughout the day, making it easier for air conditioning to keep interiors cool and reduces energy bills. Over a year, the savings can be significant.
Increased livability. Now there's no need to steer clear of certain indoor spaces or outdoor areas during the hottest parts of the day. The right type of shades can make a sunroom or patio comfortable at any time.
No more cords. Automation eliminates the need for unsightly cords that also pose a risk to young children. Replacing tangled or knotted cords can be expensive - motorized shades may be cheaper in the long run.
Versatility. Polar Shades manufactures motorized shades for all types of uses. Our products are ideal for controlling morning glare in a breakfast nook or managing the afternoon light in a conference room that has expansive windows.
Protection. Prevent exposure to the sun that can quickly damage furniture, flooring and decor, including precious artwork and wall hangings.
Increased property values. Along with outstanding functionality, elegant customized motorized shades enhance the value of your property.
Call Polar Shades Today to Order Your Motorized Shades
There's much more to learn about Polar Shades motorized shades. A customer representative of Polar Shades is happy to tell you about the materials and workmanship that go into our products.
Call us today at today at 877-260-6110 or 702-260-6110 for more information.