It's only a matter of time. No matter how roomy your kitchen is, the day will come when you find yourself muttering you wish it were bigger. If your kitchen is small to begin with, your imaginative powers probably have been percolating faster than a coffee maker since you first laid eyes on it.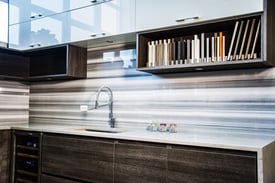 The great American kitchen is also the great American equalizer, for most people want their kitchen to look and feel bigger. This is no easy feat, but you might be surprised what you can accomplish when you follow these seven techniques favored by professional kitchen designers:
Focus on the cabinets
Replace solid cabinets with glass door cabinets. Those that store glasses are particularly well suited to producing this eye-appealing look. Alternatively, use frosted glass on a more cluttered cabinet. Enhance the overall look with an inside light.
Replace upper cabinets with open shelves. Also called "shelf uppers," shelves bring an airy look both to narrow kitchens and large kitchens that look and feel bogged down by wall-to-wall cabinets. You probably won't want to open up all your cabinets, but even half will make a profound difference in a kitchen of any size.
Hang under-cabinet lights or rope lighting above cabinets. You obviously won't feel the full effect until dusk, but cabinet lighting will make your kitchen look brighter and bigger as shadows disappear. It's worth the wait until later in the day.
Focus on the backsplash
Install a mirrored backsplash. Several people working in even a large kitchen are likely to feel cramped for space, and a mirrored backsplash will give your kitchen the aura of more room. Mirrors are truly magic; even from a distance, and even when a kitchen is empty, they can make it look larger and more elegant. Try tinted glass for a moodier look.
Install a copper or stainless steel backsplash if you're reluctant to go full tilt with mirrors. You'll still derive the sheen factor and give your kitchen added depth. Plus, if your current backsplash literally absorbs a lot of splash, these materials will be easier to clean.
Focus on appliances
Place panels on your dishwasher and refrigerator that match your cabinets. Once you have replaced your bulky appliances with slimmer options this will also help make your kitchen seem larger. Placing these panels will give you a seamless look that will help your line of vision dance over these workhorse appliances.
Unwrap a compact hood and replace it with a focal point. This is one of the few moves in which you can install a larger feature and do wonders even for a small kitchen. For starters, you'll find upper cabinets that hug a hood fan do little more than hide ducts. Then you'll see (once again) that removing upper cabinets diminishes the heavy, bulky look that plagues many kitchens. When you install a fetching range hood, unwrapping a compact hood will feel more uplifting than Christmas morning.
Try one or several of these ideas and, when you're ready, don't forget one of the best ways to make any room look bigger is with natural light. To ensure your kitchen is fitted with interior window shades that will most effectively place more light on the subject, call Polar Shades for an in-home consultation at 702-260-6110. The day your new shades are installed will also be the last day you'll find yourself muttering you wish your kitchen were bigger.