Your backyard is a perfect summertime destination for family get-togethers, whether you're grilling, playing with the kids, or enjoying the pool.
The following are ways to make your backyard safer for summer:
Make sure play equipment is properly placed
Any play equipment such as swing sets should be securely anchored on level ground. They should be placed on wood chips or other soft material to provide cushion in case of a fall.
Check play equipment for safety
Regularly inspect play equipment for loose hardware or rotten wood. Also look for sharp edges or other hazards. Place equipment in a shady area if possible. Surfaces, especially metal, can get very hot under the scorching Las Vegas sun.
Properly supervise your grill
When you're cooking out, monitor the grill closely at all times. Keep children and pets away as you're grilling and while the embers are still hot.
Use the proper grilling utensils
Protect yourself when you're manning the grill by wearing an apron and long-armed oven mitt. Use utensils with long handles so your hands stay as far away from the heat as possible.
Extinguish the grill completely
Be sure to completely extinguish your charcoal by breaking it up with a long stick and then covering the grill. Leave enough time before you go to bed to ensure the embers are completely out. Once they've completely cooled, throw them out in a metal container.
Secure your pool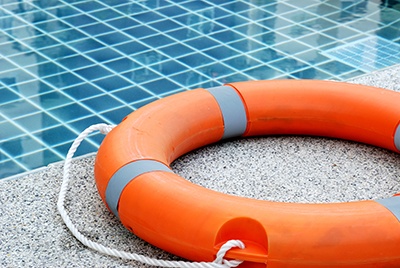 Secure your pool with self-closing gates. Install latches beyond the reach of children.
Properly maintain your pool and its surroundings
Check all equipment, such as drains, ladders, and diving boards, to make sure they're in good condition. Keep the pool area clear of objects that could cause someone to trip.
Be careful with pesticides
If you're using pesticides in your yard, follow the manufacturer's directions closely and wear protective clothing when using it. Don't spray around children or pets, and store pesticides properly in a high place or locked cabinet.
Call before digging
If you're planning to dig in your yard , contact your utility company to ensure you're not in danger of hitting any underground gas or power lines. This could put you at risk of serious injury and disrupt utility service in the area. The Public Utilities Commission of Nevada recommends calling 811 prior to digging.
Install a ZipRite shade
Install a ZipRite shade on your patio to extend your home's living space. You, your family and guests will be shielded from the sun's harsh glare, your pets will be secure and the pesky bugs and insects will be kept out. Contact Polar Shades at 877260-6110 for a free estimate on a ZipRite shade. Not all accidents can be prevented, but with a little preparation, most can be minimized. We hope these help you enjoy your summer more.