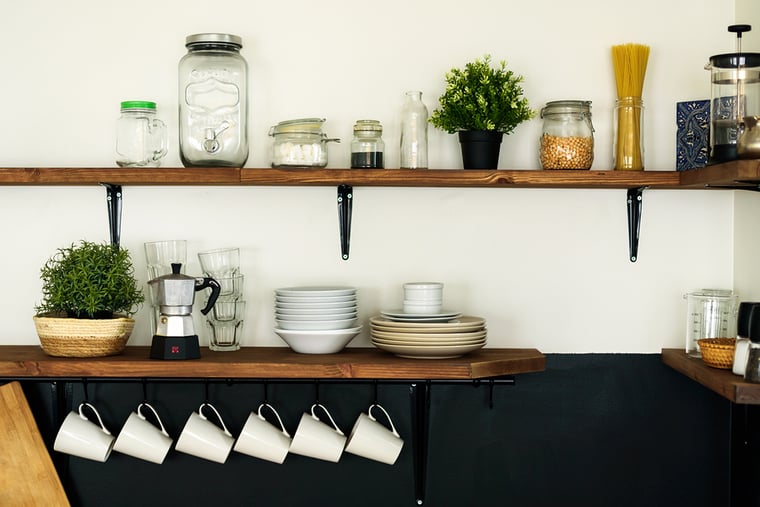 Open shelving is a popular kitchen trend, but to make the most of the look, you have to think carefully about the items you'll store there. The following tips will help you achieve an aesthetically pleasing look while also making your kitchen more efficient:
Start with Things You Use Every Day
One of the best ways to take full advantage of open storage space is to use it for everyday essentials. Things like plates and bowls, coffee mugs and drinking glasses are ideal. Not only does this make things faster and more convenient for you, it also allows guests to easily find what they're looking for.
Throw in a Splash of Color
Easily dress up your open shelving by adding a splash of color. Choose some decorative pottery pieces, like colored vases, or add brightly-colored drinking glasses and some copper mule mugs.
Create a Spice Station
The chef in your home will appreciate the ease and functionality created by storing herbs and spices on your open shelves. Transfer the spices from their original containers to stylish shakers for a clean and trendy look.
Turn It into a Home Bar or a Coffee Bar
Liquor bottles come in a wide variety of shapes and colors, making it easy to create an attractive display on your open shelving. Add some nice-looking shakers and bar tools to complete the look and create a fully functional bar.
In addition, shelves situated above a coffee maker are perfect for creating a stylish and functional coffee bar. Display bags of fresh beans, your grinder, sugar, coffee spoons, and other supplies on these shelves. If you enjoy tea, this is also a great spot to store tea bags or loose leaves in decorative containers.
Add Decorative Pieces
If you have enough space to store your items in cabinets, you may choose to use your open shelves purely for decoration. Choose just a few key pieces that will attract the eye. This minimalist look will make your kitchen look great while also reducing the need for constant dusting.
Choose an Eclectic Mix of Items
There's no rule that says you have to stick with a specific theme when storing items on your open shelving. Feel free to mix functional items, decorative pieces, and even flowers or framed photos. Just make sure to keep it neat and beware of creating a "cluttered" look.
Enhance Your Kitchen Aesthetic with Window Shades
No matter which option you choose, make sure you keep the items on your shelves clean and organized so they don't detract from the overall look of your kitchen. The colors you choose to display on your open shelves can be tied into the rest of your kitchen with window shades. These are more than just a stylish upgrade, however. They protect your shelves and the items displayed there from the sun's UV rays, helping them retain their vibrance for many years. They also allow you to adjust the level of natural light in the room to create a comfortable atmosphere.
Motorized options are available to make operation seamless. You can choose between remote control, voice activation or complete automation by setting your shades on a timer. For more information on these high-quality products from Polar Shades, schedule a free, in-home consultation by calling 702-260-6110 today.