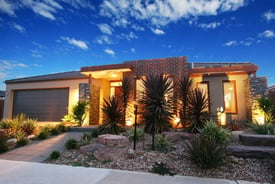 The outside of your home is a reflection of the inside. If there are weeds or overgrown grass taking over your yard, it's easy to think the inside of your house is also messy and unkempt. With the importance of good landscaping to maintain your house's curb appeal and functionality of your backyard, here are five landscaping tips for your home:
Trim trees and other plants
Are the shrubs in your yard unshapely or do your trees have broken branches? Trim them to maintain the look of the outside of your home and keep your existing plants and trees healthy. Use shears or a power hedge trimmer for shaping hedges or pruners for trees. Make cuts directly above the leaf bud for shrub branches and remove branches growing at narrow angles.
Use natural desert plants
When living in a desert, it is more difficult to maintain a green lawn, especially if there are water restrictions. Instead of having to worry about watering the yard regularly or letting plants die during a dry spell, get drought resistant desert plants. These include cacti, succulents, acacia and more. Since they require less water than typical grass, desert plants need less maintenance and homeowners save money on lawn tools like mowers and weed cutters.
Replace old mulch
Apply a new layer of mulch to garden beds. It's recommended to put down new mulch during mid to late spring and another layer of mulch in the summer. These layers should measure 1 to 2 inches deep in the case of fine mulch and 3 to 4 inches for mulch that has larger components to control weeds and avoid killing desired plants.
Consider putting down decorative gravel
If you decide to replace grass with a natural desert landscape, look into decorative gravel to add style and function to your lawn. Desert gravel is available in various colors, from white to red to black depending on your preference. For example, to contrast against green plants like cacti, install black gravel to make plant colors stand out. Make sure you use an adequate layer of gravel to prevent empty spaces.
For a more budget-friendly alternative, research options for utility gravels that cost less per ton compared to decorative gravel.
Pair up plants that have the same water requirements
When a yard has plants with different water needs, plants may be over watered and at risk. Ensure your plants have comparable water requirements, such as sticking with all desert plants. This makes it easier to keep track of when to water plants and take the guess work out of landscaping.

Landscaping is not the only factor affecting your home's curb appeal. To enhance the look of your home outside and in, consider installing motorized shades. Call Polar Shades at 702-260-6110 for a free in-home consultation and to upgrade your home with exterior shades that are stylish and functional compared to ordinary blinds.
---