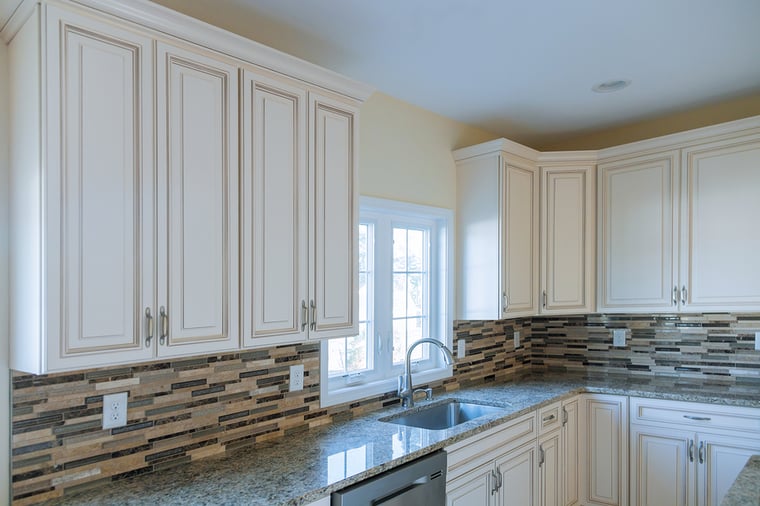 The kitchen sink and faucet are often understated, yet, the most used and play a central role in a kitchen's decor. Thus, the sink and faucet in any kitchen have a frequently unrealized impact on how the overall space is perceived. If you're looking for a way to elevate your kitchen's aesthetic, here are some kitchen sink and faucet styles that will do just that:
Farmhouse Sink: Rustic & Practical
A farmhouse sink is a classic style of sink that provides a rustic aesthetic and is also immensely practical. The sink itself is oversized both in width and depth, covering more space and measuring much deeper than a standard single-basin sink. The style usually has just one basin, though.
This type of sink is particularly popular with people who want a country- or rustic-inspired interior, and most of these sinks are made of fireclay or cast-iron that matches that aesthetic.
As for practicality, the sink's wide and deep measurements make it great for large families. Many dishes can pile up in the sink without being too noticeable, and there's even enough room to rinse a turkey in the basin.
Undermount Sink: Sleek & Modern
An undermount sink is nearly the exact opposite of a farmhouse sink in terms of aesthetics. Rather than going over the top edge of the counter like a traditional sink, this type secures in place from underneath the countertop. The result is a seamless countertop that drops directly into the sink basin. The under-the-countertop look is an extremely sleek and modern style, and it pairs well with most current interior decorating trends.
Corner Sink: Clean & Unique
The corner sink design is a double-basin sink that fits into a corner. The design is unique, which itself makes this type of sink stand out. It also has a compact layout that lets you make the maximum use of a small space.
Detachable Faucet: Functional & Minimalistic
The detachable faucet offers the functionality of a traditional faucet and sprayer in a more minimalistic design. A single faucet comes up above the sink, and the end can function as a traditional one or as a sprayer. Most models have a button on the end to toggle between the two functions, and the sprayer simply pulls down.
Wall-mounted Faucet: Compact & Different
A wall-mounted faucet is mounted to the wall rather than the countertop or sink. This makes installation more involved, but it lends itself to a compact design that's perfect for small spaces and is also very different from the norm.
Enhance Your Kitchen's Aesthetic
An updated kitchen sink and faucet are fairly simple changes to make, and they can have a profound effect on the overall appearance of the space. If you want to elevate your kitchen's aesthetic, use these sink and faucet concepts to give your home's kitchen an upgrade.
You can also add window shades in colors that complement your new sink and faucet, to tie your new features in with the rest of the room. Polar Shades offers window shades in a variety of colors and styles, so you can find the best one for you. To schedule a free, in-home consultation, contact us today at 702-260-6110.