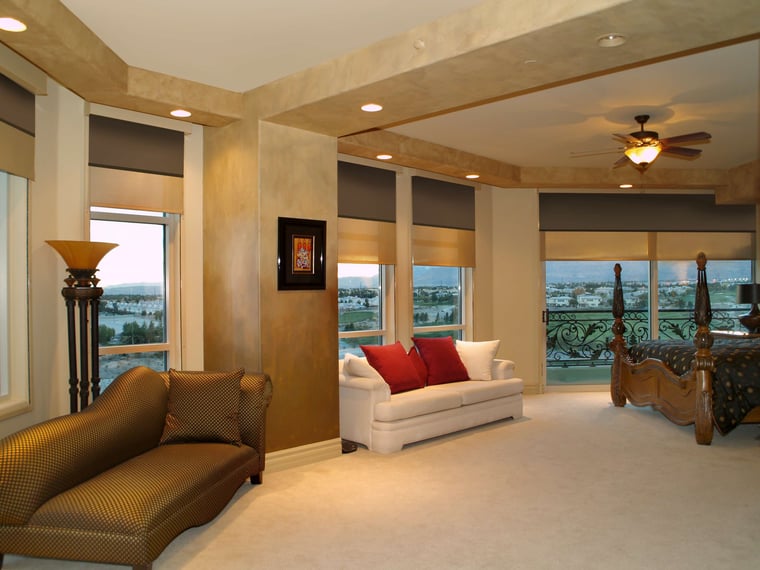 Your master bedroom should be a restful place where you can relax, unwind and recharge. Here are a few essential keys to creating a restful and inviting master bedroom:
Furniture
In addition to your bed, consider adding other plush furniture pieces to create a sitting area for you to relax after a long day. A bench at the foot of your bed, a small table and chairs near a window or a comfy love seat on the opposite wall provide you with great spaces to lounge during the day.
Décor
Your master bedroom should have a soothing color palette. You don't want to be overstimulated by loud or clashing colors in this space. Instead, pick a combination that's easy on the eyes yet still attractive, like whites, beiges, grays, or pastels. If you desire an accent wall, make it a rich color and find small accent décor pieces to complement it. Ideally, your master bedroom's décor will blend together beautifully to create a calming atmosphere.
Empty Space
If your master bedroom is large, that doesn't necessarily mean you need to fill every inch of space. In fact, having a minimalist bedroom may actually give you a stronger sense of calm in the room. Consider storing as many belongings as you can out of sight and relocate any furniture pieces or décor that clutters up the room.
Lighting
Proper lighting is key to achieving a restful and inviting space. First, replace your artificial lights with smart LED bulbs that have a dimming or color tuning feature. You'll also want to control the light streaming through your windows; interior window shades are an attractive option, both for your eyes and your wallet.
Affordably priced and manufactured to meet the highest quality standards, Polar Shades's window shades come in a variety of colors to match any design. Our innovative and affordable shading solutions allow you to fully control the amount of light and heat entering the space, ensuring that it's always at the right comfort level you need. The Duo Shade is particularly ideal for bedrooms because it allows you to have an open-weave fabric to let sun in during the day, and a blackout fabric to completely block light while you sleep.
Make your master bedroom a truly restful and inviting space with interior window shades from Polar Shades. Contact us today at 702-260-6110 to schedule a free, in-home consultation.