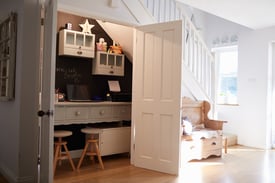 It's the rare homeowner who doesn't like their home to be a comfortable yet up-to-date reflection of who they are. As families constantly change, it makes sense your home's style will change as well. In the home remodeling world, making changes to even small details on your home's interior and exterior can have a huge impact. There's no shortage of innovative remodeling ideas to draw from – here are 5 of our favorites.
Innovative Remodeling Ideas
Utilize the area under the stairs. From building bookshelves to installing pull-out storage racks for boots, shoes, and other items best kept hidden away. Shelves and storage areas under staircases are a great use of underutilized space.
Turn your shower into a spa by installing an S-shaped seat for reclining or a multi-directional steam shower. They'll both do your body good!
Bring some fun into the backyard. Add a bar rail onto your deck so you and your guests can enjoy extra outdoor entertaining room. Do you have an old garden shed going to waste? Turn it into a charming artist's retreat.
Create clever overnight guest sleeping areas by adding a trundle bed under a window seat, tucking a small bed for the kids under the stairs, or putting a hideaway trundle bed in a spare room.
Add instant appeal and make your home more energy efficient by installing interior or exterior shades, both of which offer excellent protection from the harsh sun. Retractable shades also can help reduce your energy costs by up to 30%!
Learn More About Polar Shades

It really doesn't take a lot of work to transform the feel of a whole room or outdoor area with just a single remodeling project. We hope you find some inspiration in these innovative suggestions. Contact Polar Shades today at 702-260-6110, to learn more about how to incorporate beautiful shades into your next home makeover – and don't forget to download our latest Shades vs. Blinds guide.

---