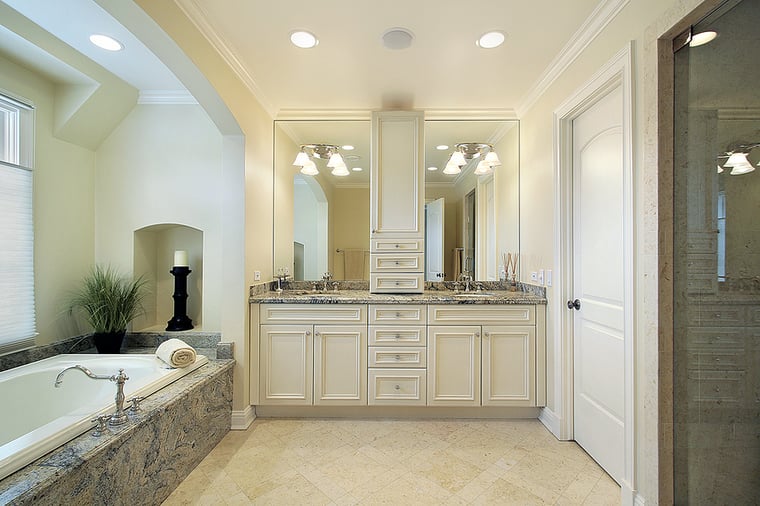 The master bathroom should be a serene sanctuary for your mind, body and soul. This space should be a retreat from the busyness of life where you can truly relax. To create a peaceful, calming bathroom, you need these five features:
5 Keys to Creating a Master Bathroom that Encourages Relaxation
Set the Mood
The last thing you need when you're trying to relax in a warm bath is hot fluorescent lights bearing down on you. Consider replacing these lights with tunable LED lightbulbs that don't create such a harsh glare. These lights can also be dimmed to a color temperature that encourages relaxation.
Integrate Nature
You'll never regret integrating natural elements into any room of your home, especially the master bathroom. Connecting with nature will help you disconnect from the challenges of the day. Natural wood and natural stone used for countertops and cabinetry add an earthy tone. Enhance it by adding a few pieces of décor like flowers in a stem vase or small potted succulents.
Concentrate on Color
Color has a dramatic impact on our emotions which is why you need to prioritize calming colors in your bathroom. Pick a palette that allows you to be creative yet subtle. Grays, whites and pastel colors like blue and green are perfect for those who wish to add a little color into their bathroom. You could also add earthy tones like browns or creams to accentuate the other natural elements within the space.
Engage All Senses
Relaxation is a frame of mind — encourage a peaceful mindset by engaging all of your senses. Use a wireless speaker to play soothing music from your phone. Light scented candles to fill the air with a pleasant aroma. Pamper yourself by stocking up on lotions, bath salts and a plush robe so you can feel relaxed mentally and physically.
Achieve Optimal Comfort
To really enhance your space, you'll need a resource that eliminates the amount of light, heat, and glare entering your bathroom through the windows. Thankfully,

interior window shades

can be easily installed to give you complete control over your comfort with the flip of a switch.
Polar Shades is the leading manufacturer of high-quality sun control products in Southern Nevada. Our innovative shades revolutionize the way you enjoy your interior and exterior spaces by providing you with the ability to reduce sunlight, heat, glare, and harmful UV rays. This, in turn, can save you money on your energy bills, protect your furniture and décor from fading, preserve your privacy, and enhance the aesthetic of your home. Contact Polar Shades today at 702-260-6110 to schedule your free consultation and find the perfect shades for your home.