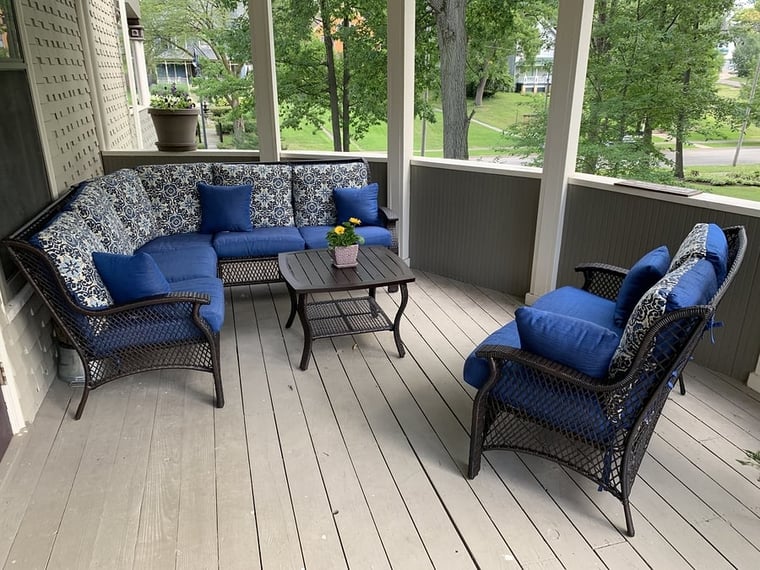 Classic blue, Pantone's Color of the Year for 2020, is a timeless color that is both calming and assuring. Since it mirrors the color of the sky, classic blue merges well with other natural colors, making it perfect for decorating your outdoor spaces.
Tips for Decorating Your Outdoor Space with Classic Blue
Furniture
A great way to incorporate classic blue into your outdoor spaces is through furniture. Whether you use it on seats or stools, the bold blue will make your furniture stand out. Having this color on furniture is also ideal for a poolside setting, as it provides a visual parallel to the water.
Vases
If you want simple elements of classic blue in your outdoor spaces, vases and planters are the way to go. Blue and white vases for your plants beautifully contrast natural outdoor elements, without being too bold. To add character to your décor, go for either contemporary or antique pieces. Always choose your vases depending on the size of the plants; bigger plants and branches require bigger vases.
Flowers
The most natural way to have the classic blue in your outdoor spaces is by planting blue flowers in your garden. Mix blue flowers with darker ones if you are looking to brighten existing colors like purples, or grow them with bright red, orange, and yellow flowers to add contrast. Since hydrangeas can go from pink to blue in soils with a pH of below 5.5, you can change the color of your existing pink flowers by increasing your soil's acidity. To do this, periodically add aluminum sulfate or natural elements, like ground coffee, to the soil.
Accessories
Add a pop of color to your outdoors with accessories like throw pillows, without necessarily throwing your outdoor color scheme off. You can do this with a variety of mixed prints and textures. Blue-colored rugs or similar hues are also a great way to incorporate the color of the year to your outdoors.
Blue Tiles
Tiles are versatile and you can use them on the floor and walls. If you have an outdoor kitchen, using blue tiles on your backsplash is a great way to add color. You can also use classic blue tiles on the pavement, engrave them on your benches or as drink coasters for your outdoor table.
For your classic blue to retain its rich color and make a statement, you need to protect it from the sun, so it doesn't fade. Exterior shades from Polar Shades can help regulate the amount and quality of sunlight in your outdoor living spaces by eliminating UV rays. They also enhance the comfort of your outdoor spaces by reducing the amount of glare and heat. Contact us today at 702-260-6110 to learn about our wide variety of exterior shades and schedule a free, in-home consultation.