An inviting home makes guests feel welcome and comfortable and makes it easier to relax after a long day. Here are a few tips for making your home more inviting and comfortable: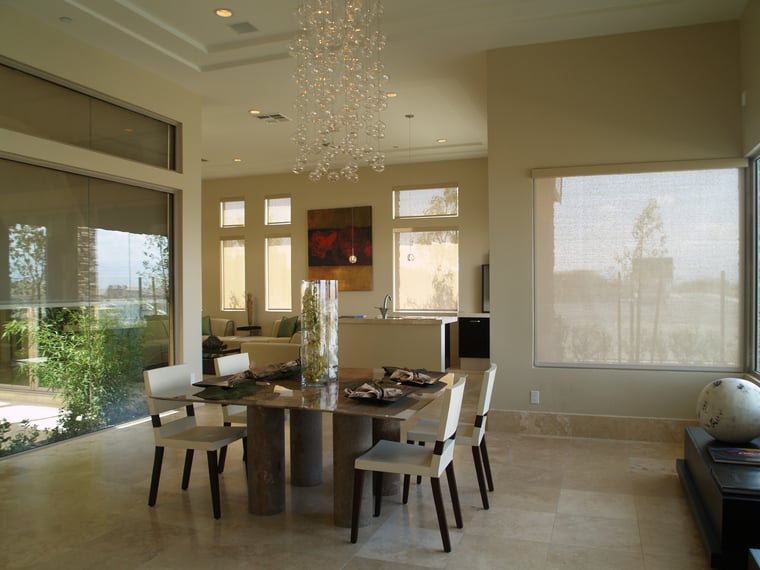 1. Create a Cozy Backyard
Make your home more welcoming by creating a cozy yard where your family and friends can hang out. Add chairs, a fireplace and a sitting area to create an outdoor living space where you can entertain your guests. Don't forget to add plants throughout for added color.
2. Leverage on Lighting
Plenty of natural light will make your home brighter, causing it to feel larger. You want to let as much light in without compromising privacy. Interior window shades are the perfect solution. They allow you to receive an optimum level of natural light, while eliminating glare and reducing UV rays. Polar Shades window shades feature light-filtering technology, which allows light to filter in even when the shades are down, while still providing privacy.
Window shades are an attractive upgrade as well. The versatile fabric options allow you to infuse your style into the room. We offer energy-efficient fabrics that come in a variety of openness factors to suit your needs.
3. Tidy Up Your Entryway
A tidy and appealing entryway will draw people into your home. Eliminate clutter by mounting a coat rack, installing wall hooks for keys and purses, keeping a bin for shoes by the door, and adding a table with a designated place for mail. You can make it even more inviting by adding a colorful mat or placing a colorful flower vase on the entryway table.
4. Get Personal with Pictures and Homemade Artworks
Add a personal touch to your home by displaying pictures of your family on the walls. The best places to create your own "mini-gallery" are in the hallway and stairway. While you can show off your best pictures, a few imperfect ones can add character and originality. Do you have crafts or drawings made by your kids? You can make a floating shelf to display your pieces of art to make your house feel homier.
5. Spice Up Your Kitchen
Create a welcoming atmosphere by introducing a comfortable sitting spot in your kitchen, adding flowers on the dining table and placing colorful containers for cooking utensils on the counter. You can also add some warmth to your kitchen by painting the cabinets or the walls to give it a boost. Having freshly baked items like cakes or pies will give your kitchen a pleasant scent, making your kitchen more inviting.
For more tips and ideas on how interior and exterior window shades can benefit your home, check out these blog posts: