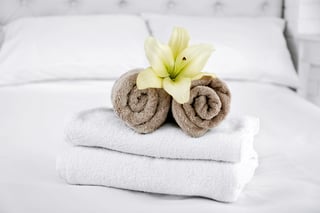 Before your holiday visitors descend on you, spend some quality time cleaning and preparing your high-traffic rooms. At the same time, give your guests a holiday surprise by delighting them with some spa-inspired touches and other things you may forget about when preparing your guest bathroom.
First things first
Before you start cleaning, inspect:
The faucets and shower heads to ensure they're working properly.
The light bulbs, and replace any burnt-out or dimming bulbs.
The intensity of the lights, and install dimmers, where appropriate.
Once you know your bathrooms are in good functional order, pull out the stops and clean them thoroughly from top to bottom. On the other hand, if the thought alone fatigues you, consider hiring a cleaning service to do the scouring and polishing for you. (And if you have to overcome the "guilt factor" of not doing the work yourself, try thinking of the "oohs" and "ahhs" you're likely to hear when your holiday guests lay eyes on your spotless bathrooms.)
Take a step back
As difficult as it might be, take a step back and look at your guest bathrooms through the eyes of a newcomer – and one who will be bringing along toiletries he or she will want to spread out. Your goal is to update worn items and clear some room, even if it means hiding items until your guests depart. So consider:
Replacing worn or dated towels and shower curtains
Replacing throw rugs that are thin and matted
Moving personal items to your bathrooms
Stashing large or clumsy items such as scales and hampers
"Trim" your bathrooms
With the "heavy lifting" behind you, you can concentrate on adding those special touches. Like trimming a tree, you can make your guest bathrooms "light up" by:
Stocking the bathtub and shower with items your guests might not have packed, such as soap, shampoo and conditioner.
Placing amenities such as toothpaste, toothbrushes, disposable razors, cotton balls and cotton swabs in metal bins (think of small holiday-themed containers). Make sure you have plenty of facial tissue, too.
Creating a "spa basket" loaded with sea sponges, bath brushes and bath salts. Even dollar stores carry bath items you would expect to find at upscale hotels.
Splurging on thick wash cloths, hand towels and bath towels. Purchase them in different colors and they'll be easier to spot as "guest linens."
Infusing the rooms with a pleasant (and singular) holiday aroma like vanilla or cinnamon by adding scented soaps, candles or a bowl of potpourri.
Putting a magnifying mirror -- a stylish and helpful touch -- on a shelf or counter.
Giving your guests the privacy they need, and the ability to adjust the level of natural light they want, with window shades from Polar Shades. Call 702-260-6110 for a free in-home consultation and our window experts can help you select a classic shade that crowns all of your special touches like the light on top of your holiday tree.

---
---