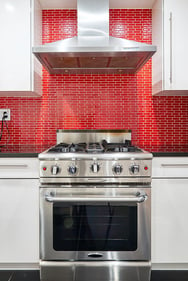 Choosing a range hood for your kitchen is a great way to introduce a little style while adding an important appliance. Here's what you need to know about choosing the right hood for the job, while making sure to get one you'll love to look at for years.
Tips for Choosing the Right Range Hood
What a Range Hood Does
The purpose of this appliance is to draw steam, grease and odors from cooking so it doesn't permeate your walls, art, upholstery and everything else in the home. While not all building codes require a range hood, it's a good idea to have one to protect the surfaces of your home.
When to Choose
The best time to consider a range hood is early in the design phase of a home remodel or build. The hood you choose will have to fit the existing ductwork or you'll have to modify what is there. Different styles and sizes may not fit perfectly into the cabinetry or other surrounding objects, so it's important to design them all together.
You also want to select one powerful enough for your cooking needs. Your stovetop's manufacturer will specify how many cubic feet per minute of air power your range hood should have. Wait to choose your range hood until you've chosen a stovetop and accessories to make sure they will complement each other and have enough capacity.
Noise Matters
When choosing a hood, it's important to consider noise, too. In smaller kitchens, a noisy fan can drown out even the closest conversation. If you entertain frequently, you could be putting a damper on the mingling. Make sure you can test each range hood you're considering, to determine if the noise level is tolerable.
Make it Your Own
Have fun with the design. Most range hoods come either as an all-in-one set or as a two-piece insert plus a shell. If you choose the two-piece system, you'll have a bit more flexibility when combining a powerful insert with a shell that looks the part.
Consider whether you'd like a stylish hood that will be the focal point of your kitchen, or one that is understated and blends in with the rest of the kitchen. Materials for the shell can be metal, wood or framed and finished like part of your wall. You can even work with a designer to create a custom finish as unique as your personal style.
Bring it All Together
Remember as you're designing your new kitchen, each of the components, from the range hood to the window coverings, should work together to create a unified look. Visit our site for more tips on decorating your kitchen.