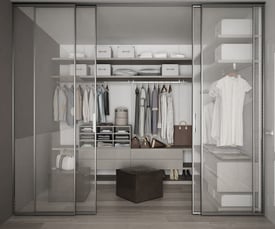 It's time to re-organize your closet – and not just by putting your favorite baseball caps in a bin or hanging all your belts from one sturdy hangar.
While these are good moves, the one that could spell the difference between short-and long-term success is removing every single article from your closet so you can view your closet as a blank slate. "Closet reshuffling" can be accomplished in an hour or so; closet reorganizing cannot. So when you have a chunk of time to spare – and want to make a wholesale difference in not only how your closet looks but how it functions – begin with that blank slate. Your goal? To capitalize on space and put everything in its rightful place.
Sort your belongings by category – pants in one pile, sweaters in another and so on. Then go through each pile and decide which belongings are worth keeping, donating and throwing away. Heed the rule; if you haven't worn something in one year or touched it in two, it's time to discard it in some way. Purging your closet will free up valuable "real estate."
Add a functional piece of furniture – if you have the room and a suitable wall – to automatically increase your storage space. It doesn't have to be big to make a difference in keeping your closet neat and organized.
Capitalize on closet space like you never have before. If you have only one vertical clothing rod, install another one below it. Hang hooks or a tie rack (for ties, belts or scarves) on empty walls. Add "cubby" containers to the top shelf or on the floor to stow large items, such as tote bags. Most important of all: purchase hangars that allow you to hang multiple pairs of pants or skirts on one hangar. Purchase a step stool, to reach the tallest portions of your closet.
Hang an over-the-door shoe organizer. If you store your shoes elsewhere, buy the organizer anyway and use it for other items.
Hang your clothes – and stack folded tops sweaters and sweatshirts – by season and then by color, going from light to dark. If you have the room, devote one side of your closet to "warm weather" clothing and the other side to "cool weather" clothing.
Ensure you have optimal lighting in your closet – not only to see what you're doing but so you set the right atmosphere, too. Making your closet seem more hospitable will make you more likely to maintain the order you've created.
If you have a window in your closet – or even near it – ensure you have the right window shades to encourage a proper inflow of light. Call Polar Shades at 702-260-6110 for a free in-home consultation – and watch those visitors start lining up for an invitation to see how you've capitalized on space and put everything in its rightful place.