All parents know when you have a child you're constantly dealing with messes. Here, there, and especially in a child's playroom. But when you incorporate a few innovative storage solutions into the play area, it can encourage your child to help keep their play area clean and tidy.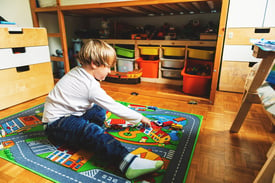 Five Storage Solutions for Play Rooms
Buy a fun and cute catch-all. Many stores offer containers in the shape of animals or superheroes. Make clean up fun for your kids by telling them to "feed the elephant" with toys! Making a game out how fast they can fill up a container can make clean up fun and faster.
Add a clothes rod in the closet. Make every inch of storage space work hard by installing an upper and lower clothing bar in your child's playroom's closet. Don't forget you can use the bars to hang more than just clothes. Purchase hanging bags and turn the closet into the ultimate storage solution.
Invest in hooks. Wall hooks are a wonderful way to add storage to rooms without a closet and without taking up valuable floor space with a cabinet. Hooks are ideal for net bags which are convenient for kids to store all their favorite games and activities. Whether you choose to install hooks permanently or use a removable hook, this storage idea is a real winner.
Use boxes to keep everything organized. You will no longer spend hours looking for a missing part! Whether you choose weave boxes or plastic ones, boxes are a great way to keep crafts and games together so your little ones can always find everything they need quickly and easily. For families with multiple kids it helps to give each kid a separate box to put an end to arguments over "stolen" toys.
Install floating shelves. Floating shelves give you ample storage, by keep things off the floor. Use floating shelves to store items you may not want your kids to play with, like cleaning products or expensive electronics.
Install Motorized Interior Shades in Your Home
With just a few changes, your kids' playroom can make all their friends, and the other mothers, jealous. Another feature of your kids' playroom which will make everyone want to spend more time at your home is motorized interior window shades by Polar Shades. If you have your hands full with your kids, motorized interior shades make it easy buy operating at the push of a button. Call 702-260-6110 to schedule a free in-home consultation and learn how window shades can enhance not only your kid's playroom but, any room in your house.