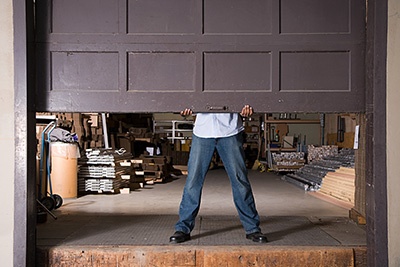 Your small garage is cramped to the point of discomfort, so it's time to get serious about maximizing the space you have available. Be sure to read fast because that wall should soon be covered with wall-mounted shelves to make the most of every square inch.
Wall-mounted shelves offer one way to open up space, and there are five more that will transform your garage. But hold that hammer. Before you buy a single space-saving shelf, cabinet or even wall hook, make one move that will make all the difference to the outcome.
Assess and organize
Rather than trying to sift through, organize and reorganize your garage in already cramped quarters, move every item outdoors. Yes, it will take some time. But this step should help you prune the items in your garage and help you develop an organizational plan for putting it back together in a smart, space-saving manner.
As you pick up an item, inspect it carefully and see if it's worth saving. If not, toss it. If it is, group like items together.
In no time, a picture will begin forming about how your garage can be more efficient. For example, you probably will need a cabinet (or at least a drawer) for screws, nails, hooks, washers, bolts and other small parts. If paint cans were threatening to take over your garage, pop the lids and ensure the paint is still usable (and properly labeled) before eyeballing a place to store it (most likely, on a tall shelf you won't need to reach every day).
Watch the space add up
With your entire "garage collection" lying before you, you're in a great position to size up the best places to store every item. (And with your garage now empty, you might even be surprised by how much room you have to work with.) Consider these winning ideas to optimize space:
Vertical and ceiling storage, achieved by laying boards across ceiling joints. Stack items you need infrequently (such as holiday decorations). Install bike lifts to free up floor space in your garage.
Floor-to-ceiling cabinets or shelving, or if cars will encroach on that space, cabinets or shelving that extend from the roof of the car to the ceiling.
Adjustable shelving, which will allow you to add on and change the configuration as your space needs change. Now is the best time to decide whether some items you need regularly – light bulbs, tape, batteries, string – might be better stored indoors.
Pegboard, to hang extension cords and tools.
Tool chests or work benches on wheels, which allow for mobility when you're working on a project and need to spread out.
One project that won't demand a minute of your time is hanging an indoor shade – at least if you turn to the industry leader, Polar Shades. After an in-home consultation, a Polar Shades window expert professional will install your shades so the only screw, nail or hook you will have to worry about will be neatly found in your garage. When you want the highest quality shades manufactured in America, trust the experts at Polar Shades and call 702-260-6110.