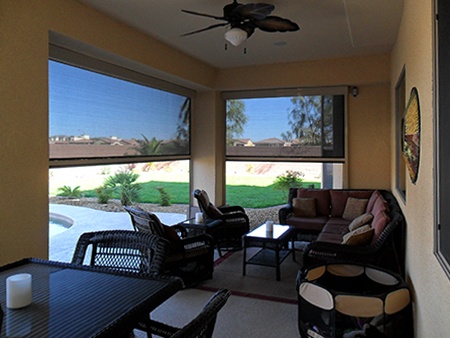 There's no sense in waiting until spring to install exterior shades when you can enjoy them throughout the fall and winter. You can also incorporate other creative elements to make your backyard cozy and inviting.
Counteract a Big Chill with a Small Fire
Counteract the chill in the air by installing a gas-burning fire pit. These come in many different shapes and sizes to meet your patio's needs. If you need time to warm up to this fiery idea, you can purchase a heat lamp fueled by gas or electricity.
Dig the Danish
The Chinese create harmony in their surroundings by invoking feng shui. People from Denmark take it to the next level by embracing hygge, a lifestyle focused on comfort and coziness that elicits a feeling of contentment and satisfaction. In addition to lighting fires, the Danish also include a blanket or sheepskin on every chair to ramp up the warmth factor and ward off the chill.
Decorate from Above
Patios often look bottom-heavy because all the "activity" takes place at ground level. To create a loftier look, hang a fixture or even a chandelier if you have a ceiling or pergola. If you don't, string lights along the nearest wall. Or secure long branches with the nifty combination of eye hooks and fishing wire.
Keep Your Thumb Green
Although spring is the common planting season, you can just as easily plant flowering bulbs in the fall. Amaryllis, paperwhites, crocus, hyacinths, and mini-daffodils can all be planted in the fall and will bloom in a matter of weeks.
Enjoy Your Patio with Exterior Shades
Exterior shades are discrete and convenient. Simply use them when you want and retract them when you're finished. We offer a variety of shades to meet your needs. Contact us today at 877-260-6110 to schedule your free in-home consultation.