Are you hosting Thanksgiving this year and concerned about getting your home ready in time? You don't have to be extravagant to strike the right chord. All it takes is a handful of simple updates to get your home ready for guests and make Thanksgiving stress-free.
3 Ways to Prepare Your Home for a Stress-Free Holiday: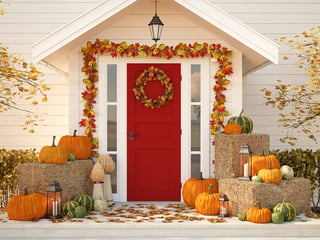 1. Paint Your Front Door
Re-painting your front door a bold shade like red or blue is one of the easiest ways to transform your home's exterior and make a memorable first impression. When guests arrive for Thanksgiving, your front door is the first thing they see and touch. Make sure you clean any trim or outdoor lighting fixtures, too. You want every visitor to feel welcome as soon as they arrive and nothing says welcome like an updated entryway full of color.
2. Replace Knobs and Drawer Pulls
Your kitchen will likely get plenty of foot traffic this holiday season. Replacing drawer pulls, knobs and handles will give your kitchen the illusion of a facelift. Get creative and mix-and-match antique pulls, or find cheap, festive knobs that fit your current drill holes. Autumnal colors like red, orange and yellow will add an extra pop of holiday cheer your loved ones won't expect.
3. Update Your Window Shades
Eye-catching window treatments can really pull a room together, and new shade technology makes it easy to block out the sun (or let it back in). This month, consider replacing your old window treatments with Polar Shades' window shades. Fabric options include a variety of vibrant colors, natural textures and blackout shades to cover any of your shade needs. To make your holiday season even more convenient, we install for you.
Ready to set the stage for a stress-free holiday in an updated home? We're available for free in-home estimates! Contact us at 702-260-6110 to request your free quote today. For additional assistance, download our Shades vs. Blinds guide to find out which window treatments are right for you.