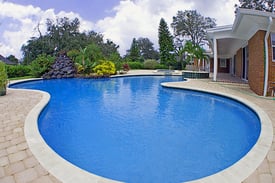 There is no doubt that a built-in pool will require diligence and commitment on your part. But with practice, these five simple maintenance steps can become as routine as checking the weather forecast before you "suit up" and take the plunge in that beckoning blue water. Consider:
Skim your pool's surface at least twice a week with a hand skimmer or leaf skimmer – long-handed tools allow you to easily grab and remove leaves, insects and dirt. Regular skimming carries the double benefit of improving your pool's circulation and reducing the amount of chlorine you will need to add. If your pool has a skimmer basket, clean it out weekly, or as needed.
Check your pool's pH level once a week to determine the acidity and alkalinity of the water. The range goes from 0 to 14, but the best numbers for swimmers hover between 7.2 and 7.8. When you keep close tabs on your pool's chemistry, you're less likely to be forced to add extra chlorine.
Brush and vacuum the walls and tile weekly. Doing so will help nip the growth of algae and calcium deposits and reduce the need for chemicals. For best results, use a stiff brush if you have plaster-lined concrete and a soft brush on vinyl or fiberglass.
Clean the pool filter, following the procedures for the type of filter you have (probably sand, cartridge or diatomaceous earth). At this juncture, some reading of your pool's owner's instructions is required. Many filters can go between four and six months between cleanings. But a rainstorm with strong wind gusts or another extenuating circumstance might warrant a special filter cleaning. Either way, soak the filter in a 10 percent solution of muriatic acid or trisodium phosphate (TSP).
Keep an eye on the water level. It shouldn't fall below the level of the skimmer because proper chemical balancing depends on it. In addition, a water level that is too low can jeopardize the pump, causing it to run dry and overheat; a water level that is too high can cause the skimmer door to malfunction.
Once your pool is clean and healthy, you can enjoy it as the focal point it was meant to be. As you sit back and take in the scene, you might be able to enhance it further by installing exterior window shades on your home.
You can count on Polar Shades to dive in right behind you, unveiling styles and color options that will frame your windows in the best light possible. Polar Shades became America's most trusted shade company by manufacturing its own signature line of durable, resilient shades that set the standard for quality and reliability. Much like your pool and other features around your home, when you call Polar Shades at 702-260-6110, they will take care of you; starting with a free in-home consultation.
---