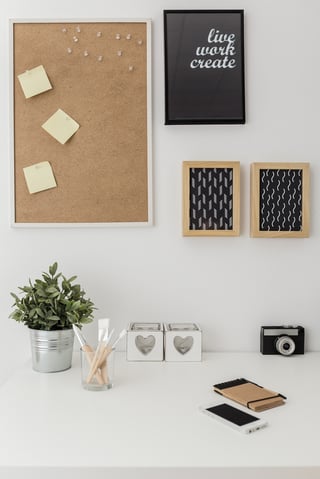 It usually happens in the most unexpected way, such as: you become attached to a vacation mug that conjures happy memories of a trip, so instead of stowing it in a far-away kitchen cabinet, you place it, front and center, on your home office desk and load it with paper clips. Now you can count on those happy memories to counteract deadline stress or grumpy clients throughout the day.
It's a little thing, but little touches can do wonders to jazz up your office space with your signature touch, transforming it into a place you enjoy spending time in.
Interior shades are the crowning touch to any home office, supplying the right amount of light to keep you focused and energized. Until you reach this final phase, you can jazz up your office in myriad ways.
Jazz up your organizational methods
Get the hang of it. Pegboards aren't just for garages; they're ideal for hanging pens, markers, scissors, tape, baskets (for paper and files) and virtually anything else you need within close reach. If you dislike the look of pegboard, paint it. And if that still doesn't cut it for you, upgrade to a fabric board with T-pins.
Hide those cords. They get in the way. They're unsightly. And they're plentiful. But they can be tucked safely out of the way if you screw a large hook under your desk – way in the back, so you don't bang it with your knees – and confine all those cords to one small, tidy and discreet place.
File it away. So we've become a "paperless society"? Don't believe it for a minute. Like everyone else, you can't avoid collecting papers – and the file folders to put them in. Harness them all, in style, by placing them in a plastic or wooden dish rack. Use the utensil holder for pens, pencils and scissors.
Jazz up your storage of the "little" things
Spice it up. Spice racks are still around, and all types can be found at resale shops and flea markets: revolving racks, immobile racks and under-the-counter racks. The small bottles are ideal to store small items such as push pins, paper clips and rubber bands.
Become intoxicated with function. That wasted space under a shelf will be wasted no more when you mount an under-the-counter wine rack, slide in long, plastic glasses (and maybe a wine bottle) and tuck small supplies inside.
Slink up to style. Kids marvel at its carefree motion; you'll marvel at its adaptability. Take a Slinky, wrap it in the form of a bracelet and keep your pens, upright.
Jazz up dull surfaces with paper or fabric
Give file cabinets a facelift. They're oh-so-functional but oh-so-hard on the eyes – until you cover the fronts with wallpaper squares or colorful fabric.
Breathe life into bookshelves. Line the back walls and shelves of bookshelves with fabric, contact paper or even sheet music.
Cover it up. Office chairs are notoriously style-challenged, but you don't have to be a master upholsterer to enliven yours with fabric and some fabric glue.
Jazz up your office with interior shades
When you're ready for the crowning touch –interior shades – call Polar Shades at 702-260-6110 for a free in-home consultation. The colors, styles and opacity levels we offer will accent all your efforts to jazz up your office – right down to that uplifting vacation mug.