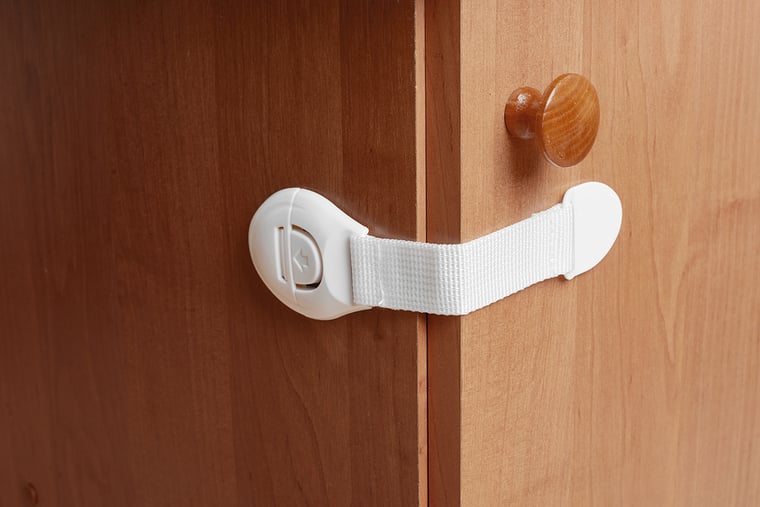 When you have small children, you want to provide them with a safe home environment where they can play and grow. To help you make your home safer for them, check out this list of helpful tips:
Keep Plastic Bags Out of Reach of Children
Plastic bags present a huge suffocation risk for children, which is why they should never be allowed to play with them. Keep them out of arm's reach and tie knots in each bag to ensure the child can't accidentally put it over their head if found.
Store Kid-friendly Items in Lower Drawers and Cabinets
It is common for children to try to get into cabinets and drawers. By storing kid-friendly items, such as books, coloring supplies or even toys in the lower storage spaces, you can ensure your child will not get into anything dangerous. If you need to store objects on bottom shelves that you don't want your child to access, consider putting child locks on cabinets and drawers.
Cleaning Products Out of Reach
It is best to store all products that contain chemicals up high and in a room that is not frequented by children, such as the laundry room.
Place Safety Guards Near Stairs and Balconies
Falls are the most common causes of injury for young children. Make sure all steps, staircases and balconies are secured with safety guards to prevent your child from falling down. This will allow your children to play freely, while also giving you peace of mind.
Place a Fence Around Your Pool
It has become increasingly common for homeowners to install locked fences around their pools. While this is great for child safety, it can also be a stylish feature that adds value to your property.
Install Motorized Window Shades
Cords can strangle a child, not to mention, poorly installed shades can fall off of the window if the child pulls on them too hard. Motorized window shades keep your children safe from the strangulation hazard that corded blinds create. They are manufactured with the strongest, most durable materials and expertly installed to ensure maximum security.
These shades are the smart way to keep your home cool, keep your children safe and add style to any room. Other benefits include:
Protection from UV rays to keep your furniture and décor looking vibrant and new for many years.

Easy operation; motorized window shades can be set on a timer to open and close automatically throughout the day, integrated with your smart home system or controlled with the touch of a button.
For more information about our motorized interior shades, schedule a free consultation by calling 702-260-6110 today.