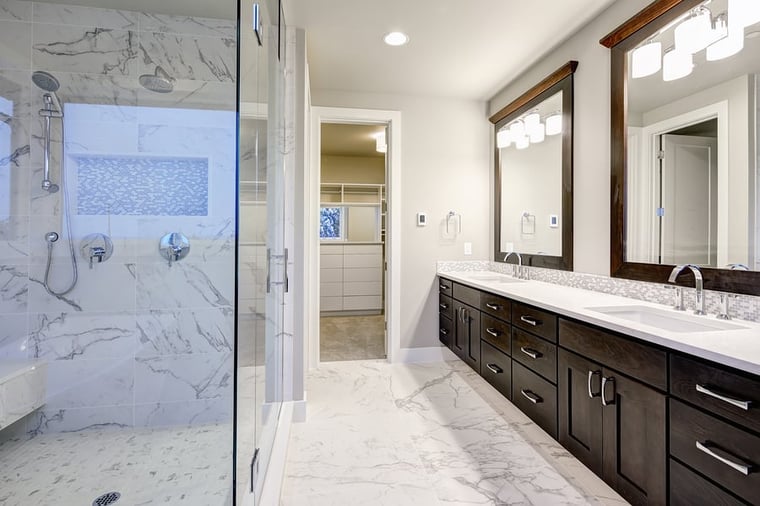 The master bathroom is one of the most important rooms of a home. When considering a renovation to this space, many homeowners wonder if their master bathroom should have one sink or two. You want to invest in the resources that will make your home as comfortable, attractive and functional as possible. Here are a few tips and considerations you should make when deciding if you should install a second sink in your master bathroom:
Factors that Determine Whether to Put One Sink or Two in Your Master Bathroom
Can You Afford It?
The first question to ask is always whether or not you can comfortably afford this investment. While installing a second sink is not a grand renovation, there's always a chance that you discover issues during the project that will cost more money to fix. Always assess your financial situation before making these significant remodeling decisions.
Do You Need It?
Next, you need to assess your needs and desires. Many homeowners want a double vanity simply because it can give the bathroom a refreshed elegance. However, some homeowners do not need an extra sink for a practical reason. If you and your partner are inconvenienced by a single sink, installing a second one may be a good option. If you simply want a second sink for the aesthetic appeal, you may want to consider investing in a different renovation project that you'll use more often.
Do You Have Space for a Second Sink?
This is a question some homeowners don't consider thoroughly enough. You'll need at least a six-foot stretch of counter space to install two separate sinks. Even though you're gaining an extra sink, you're also losing other amenities, such as counter space for other objects and space beneath the sink for storage. If you have the space for two sinks, question if it's worth losing the counter and cabinet space. If your counter is less than six-feet long, we recommend you stick to a single sink.
Renovations to your master bathroom can transform this space into a serene setting. One additional way you can enhance your comfort is by installing interior window shades in your master bathroom. Polar Shades provides industry-leading shading solutions that will help you effortlessly control the light and heat that enters through your master bathroom windows.
With motorized options available, adjusting shades has never been easier; you can opt for remote control, integrate them with your smart home system for voice activation or set them on a timer to automatically adjust throughout the day. This ease of operation, coupled with superior quality manufacturing, makes Polar Shades products some of the most dependable in the industry.
To schedule a free, in-home consultation and find the perfect shades for your master bathroom, contact us today at 702-260-6110.