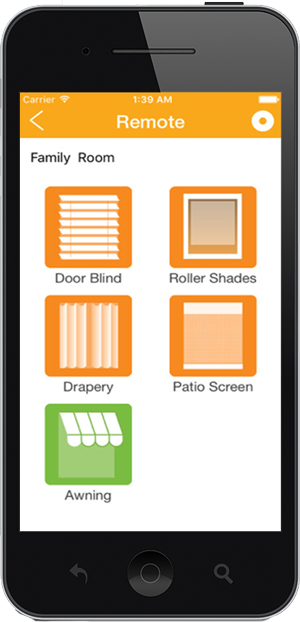 Our partner, Somfy Systems, is the largest manufacturer of tubular motors. Somfy-powered, motorized window shades give you a new view on life – and your home. Somfy's latest upgrade to its myLink™ app allows you to maximize the benefits of convenience, privacy, comfort and energy savings so you can operate your window shades with your favorite mobile device – whether you're parked on your couch at home or parked in a traffic jam 50 miles away.
myLink™ Teems with Simplicity
If you're new to apps or have lowered the curtain on those that are too complicated, the ease and simplicity of myLink™ will surprise you. To get started with it, all you need to do is plug into any standard wall outlet in your home. It communicates with your favorite mobile device – be it Android or Apple – over your home's WiFi network. From there, you simply:
Download the setup wizard. It takes only minutes.
Enter all the Somfy products in your home – including motorized awnings, blinds, drapes, screens, shades and shutters – and the rooms in which they are installed.
Choose the best way for you to control these motorized shades, either individually or as a group. The directions are written in simple English, such as "bedroom open" and kitchen open" and "bedroom close" and "kitchen close."
Schedule openings and closures according to a weekly schedule, if you wish.
Clearly see all of your selections on a simple, visually appealing dashboard that allows you to make changes with just a tap or two.
myLink™ Embraces Convenience
The functionality of myLink™ was designed for those harried Monday mornings – and really, any harried morning – when you leave the house and realize, hours later, that you forgot to close the shades in your family room or home office. From a distance, myLink™ allows you to close the shades rather than wait until you get home at the end of the day.
You can capitalize on the convenience of myLink™ even when you're close to home – and while you're basking in the comfort of it, too. "Morning people" might gravitate to the luxury of being able to synchronize their Somfy window treatments to open with the sunrise. (And you never know. For some, myLink™ could even take the place of a jarring alarm clock.) Similarly, myLink™ allows you to create another schedule so those same treatments close promptly when the sun sets.
myLink™ compounds the appeal of Somfy motorized window shades, which are:
Known for their unparalleled quality and reliability
Backed up by more than 40 years of experience and innovation
Supported by a five-year service warranty
You can learn more about Somfy through the window treatment experts at Polar Shades. They can help you shed light on your design options – and the convenience and versatility of myLink™.