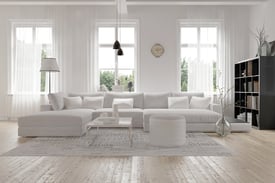 Choosing furniture for your home is a major decision, as you'll likely live with the furniture you select for years, possibly decades. It also can be a challenging decision, because furniture must be both functional and beautiful. If you're looking to get new furniture for your home, here's a guide on how to choose practical pieces that look great.

Step 1: Identify the Focal Point of a Room

Before selecting a piece of furniture, you should first figure out what piece will be most prominent in a room. Every room, whether it's a living room, dining room, bedroom, study or other room, has a focal point. Look at the room you're furnishing from the main entryway, and see where the focal point is. It'll likely be the first place your eye is drawn (assuming there's nothing currently in the room that draws your eye to another, less prominent part of the room).

Step 2: Select a Primary Piece of Furniture

Once you know where the focal point is, you're ready to select a piece of furniture for that area. Most of the time, the piece will go in the focal point itself. For example, dining tables generally go in the middle of dining rooms, and couches often go against accent walls. If the room has a special feature, however, the primary piece of furniture should face the unique feature. A sofa, for instance, may face a fireplace.

Step 3: Add Additional Seating

Once you have your primary piece of furniture in place, you can choose additional seating to put in the room. The type of seating you choose will depend on the room you're furnishing. All additional seating, though, should face the primary piece so people can easily converse when seated.

Step 4: Select Other Surfaces

Next, put in pieces that add surfaces to a room. Coffee tables, end tables, buffets and stands can all provide surfaces on which to place both decorations and everyday items. These will provide places to set down glasses, books, beverages and other items.

Step 5: Protect Your New Furniture with Shades

Once your new furniture is in place, the final step is to protect it from sunlight. Installing shades, whether motorized or manual, interior or exterior shades provide effective and convenient protection from the sun's harmful rays. To learn more about how shades can help keep your new furniture from fading, call Polar Shades at 702-260-6110 for a free in-home consultation. Our representatives would be happy to help you determine what shades will be best for your newly furnished room.