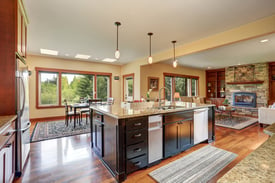 It could be your great room. Or it could simply provide a great opportunity to make the most functional use of a large amount of living space in your home.
Either way, when you have a big room you wish to break into regions, there are many ways to distinguish one area from another. Use one or use several of the following ideas and it won't be long before everyone pronounces your efforts grand by any measure:
Arrange furniture with purpose. Of course, if this idea were so simple to implement, you could use it exclusively. The key is to make functional groupings, creating separate regions for dining, watching TV and doing computer work.
Color-code the regions. With groupings of furniture in place, it will be easier to use contrasting but complementary colors to set off the regions. Choose no more than a three-color palette and paint the walls, reversing the main color and trim colors among the regions.
Create boundaries with rugs. Choose one rug for each region, ensuring they are large enough to stand out and be instantly noticeable.
Divide the regions with screens. Fold-out screens provide some semblance of privacy while supplying style to a room. Since they're simple to move around, you can experiment with different configurations until you're satisfied with the result.
Hang a drape or curtain. When you want a more definitive partition, drapes and curtains can be great choices to hang from the ceiling. Heavy drapes can provide nearly complete privacy while sheer curtains can provide an artistic touch. Even more versatile than fold-out screens, they also can be opened or closed at will.
Create a divider that could pass as an art form. A thick "wall" of branches is an obvious choice, but you can also strategically stack books or arrange a collection of tall floor clocks to create six degrees of separation between regions.
Paint or install a ceiling treatment. Take the basic idea of a ceiling medallion and let your imagination and creativity take it from there. Medallions come in a wide variety of styles, sizes and colors. Just don't let semantics disrupt your search; you can find plenty of alternatives listed under "ceiling tiles," "ceiling planks" and "millwork."
Sow divisions with contrasting materials. Tricky to pull off but helped by a creative hand, using contrasting materials – gold and silver, copper and aluminum, glass and wood – can strongly identify two regions as wholly separate.
Distinguish regions with flooring. Less cumbersome than it may sound, using carpet in one region and either high-quality vinyl, tile or cork in another will strongly signal the presence of two domains. If money is of little concern, raising the floor in one region can supply a truly dramatic touch.
Nothing can unify your separate regions better than window shades. When you're ready to revel in the choices, contact Polar Shades at 702-260-6110 for a free in-home consultation – and see the truly great choices that await you.