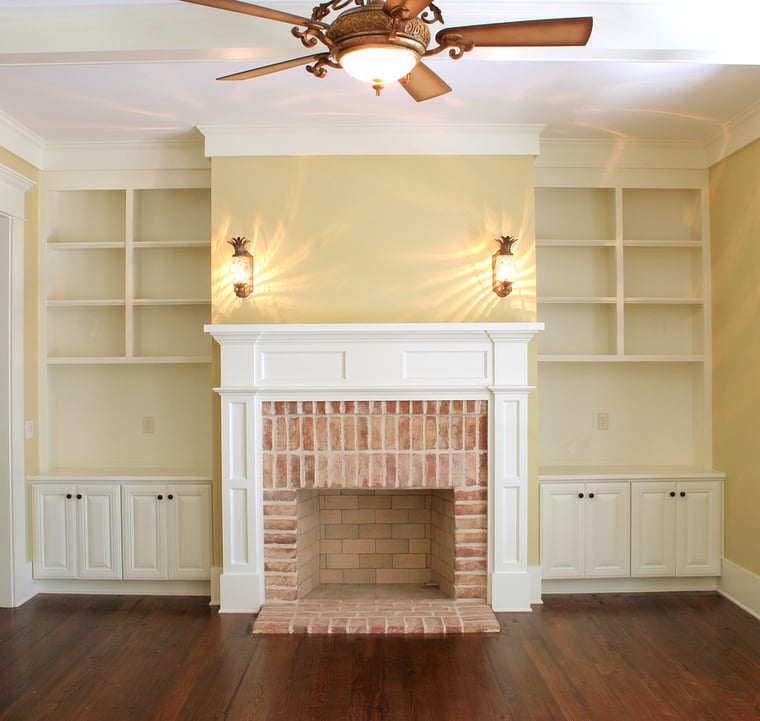 A fireplace is a hallmark of a cozy, comfortable home. Integrating a fireplace into a transitional living room can be tricky. Transitional rooms combine traditional and modern elements in a cohesive manner. A transitional design strategy brings these two strikingly different styles together by blending them into a single, streamlined aesthetic. For instance, some homeowners incorporate textures like wood and steel with a neutral color scheme, while refraining from adding too many accessories or conflicting patterns into the design.
So, how do you properly install a fireplace into your transitional living room? You will need to choose a material for the fireplace's façade and mantle. Many popular options include:
Steel

Porcelain Tiles

Wood

Brick

Plaster

Stone

Concrete
Which one is right for your home? Consider the other elements that will either complement or clash with the materials above. For instance, if you've got rustic furnishings, you may choose a wood mantel to match and a stone or concrete façade to complement it. Similarly, a steel mantel gives a smooth and clean appearance that works well in a room with neutral colors and open spaces.
A classic brick fireplace will blend well with other distinguished elements like leather furniture, rich wood tables and dark wall paint. Porcelain tiles may be an option for a minimalist room that calls for more texture than plaster or steel offer. You can also use the chimney breast as the feature of your transitional space. For example, a modern or contemporary room with white furnishings and negative space can incorporate a stunning brick fireplace as the focal point. You could paint the entire wall a rich, red color or use wall décor that has dominant red features to tie into the bricks of the fireplace. This will separate yet blend the fireplace into the room, similar to how a normal accent wall would.
Do you envision your transitional living area to be cozy and intimate? After you've installed the fireplace, consider installing interior shades on your windows to preserve your privacy. These shading solutions will block heat and UV rays, while preventing people from seeing inside your home. Our fabric options come in a variety of attractive colors to complement your transitional design. Contact us today at 702-260-6110 to schedule a free, in-home consultation.