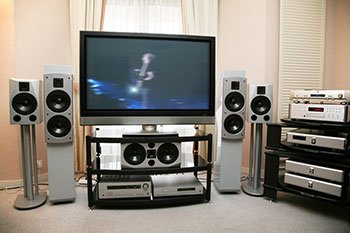 Frank Battista is a musician and a part-time salesmen of a well-known home entertainment system, so as he is fond of telling customers, he knows "the value of good sound."
One of the sounds he hears at least once a month is of a ranting customer who wishes to return the expensive system because "the acoustics stink."
Cool-as-a-cucumber Battista runs through a list of questions with the customer and, every time, the problem turns out to be not the high-priced system, but the room's acoustics. One of the tactics Battista and his colleagues recommend: window shades. To improve the room's ability to transmit sound, they cite three expert sources to support their advice. You could say the result – a satisfied customer who merges the style of shades with a tangible lifestyle benefit – is like music to his ears.
The science of sound and why acoustics matter
To appreciate just how much window shades can enhance a room's acoustics, it helps to place the issue in context.
Acoustics is a fascinating science that "deals with the production, control, transmission, reception and effects of sound." It incorporates the disciplines of earth science, engineering, life sciences and the arts. Most of us – especially those who invest in quality sound systems – identify most with the arts and how the qualities of a room influence how clearly sounds are transmitted, or can be heard.
Most of us know clear, robust sound when we hear it but may not realize how elusive it can be. Sound travels at a brisk 345 meters per second and reaches your ears in about 0.01 to 0.2 seconds. Then come the ensuing sound waves, reflected off of walls, the ceiling, floor, furniture and especially windows – one of the most reflective sound surfaces in any room.
This is precisely why capturing some of the ensuing reverberations is so critical – and why window shades serve as an ideal remedy to absorb and neutralize sound waves. Shades can reduce possible distortions, echoes and the "muddy" quality that can cause you to strain to hear words that might even be set at a very high volume.
Listen to the sound experts
One noted reviewer of home audio and theater equipment notes poor acoustics can emanate from a "$100 stereo system or with a $10,000 pair of speakers." He suggests fabric-based shades to "break up the reflections" that bounce from windows.
For people who wish to go all out in improving a room's acoustics, wool carpets are better at absorbing sound waves than synthetic carpets and acoustic panels can serve as a superior "sound absorber," says a Canadian audio/video magazine. But windows should be covered, the magazine says, to "reduce or eliminate primary (or early sound) reflections."
A noted electronics expert points out, when sound from a TV or stereo confronts a window, "it bounces back fast and hard." He recommends window shades – and motorized shades in particular – to "offer an absorptive surface for the sound to sink into, eliminating harsh reflections and minimizing the amount of audio that seeps through the panes."
If you want to merge the beauty and style of window shades and improve your home's acoustics at the same time, call the window treatment experts at Polar Shades. As Battista well knows, the options they will show you just might be music to your ears.