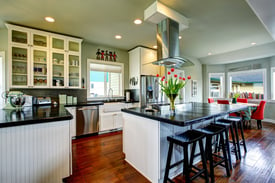 We all know what the formal dining experience is like: Graceful furniture adorned with placemats or a tablecloth, complete and exquisite table settings and, probably because of the environment, absolutely no slouching allowed.
There will always be a time and place for the formal dining experience in most homes, but with today's busy lifestyles, there's arguably more time for the casual dining experience. You just have to find the right spot for a casual dining area. Once you do, be prepared for it to become a favorite part of your home.
Casual dining areas brim with functionality
If you're warming up to this idea, just imagine how much use you could get out of even a small, casual dining area in your home. (If you're really tight on space, call it a "nook" if you prefer.) Such an area can be ideal for:
Enjoying that first cup of coffee in the morning as you check the weather forecast
Sliding into a comfortable chair (rather than hanging over a counter) to check and send emails and text messages
Finishing up homework or reading from a book or tablet
Giving guests a cozy place to congregate and talk
Indulging in late-evening chats (maybe over a glass of wine) with a significant other
Using it as a buffet table when you have an overflow of food or guests
Find the right spot for this bright spot
Like your formal dining area, a casual dining area is often best suited near the kitchen to make it easy to transport drinks, snacks and food. But don't feel limited by geography. You're likely to get so much use out of this area you'll take the long view on its placement – even if it means a longer walk to the kitchen.
You also can create a casual dining area:
In a great room or living room, especially ones that are under-used and not as functional as they could be
In a three- or four-season room, to immediately compound their use
In a breezeway or large mudroom
On an outdoor patio, especially ideal for warm climates
Make practical furniture, styling choices
No matter where you decide to place a casual dining area, practicality is vital. After all, the emphasis is on casual comfort – the polar opposite of the formal dining area in your home.
Begin by choosing furniture you not only like, but love, without feeling constrained by the decorating style of the rest of your home. Arguably, a casual dining area should stand out and be different from its surroundings, at least to some extent.
Bistro table and chair sets – even ones sold as "outdoor" sets – can be perfect indoors as well. But carefully assess the chair height; as much as you might gravitate toward the styling of a tall chair, think about how easy it will be for you – and others – to climb in and out of it. A short chair might be more comfortable; a bench seat might be ideal.
Once you have selected easy-to-clean furniture with washable surfaces, make your casual dining area a dynamic focal point by adding:
A border rug, to crisply define the area
Task lighting overhead or nearby
A window treatment from Polar Shades to "crown" the area with style
The last two elements, effectively working together, will frame your casual dining area and increase its efficiency. For help choosing the right window shade, call the experts at Polar Shades to schedule an in-home consultation. While they're in your home, they can give you window shade ideas for your formal dining area and your kitchen, too. Like your new casual dining area, the window experts at Polar Shades are long on practicality -- and functionality. Call 702-260-6110 for a free consultation today.