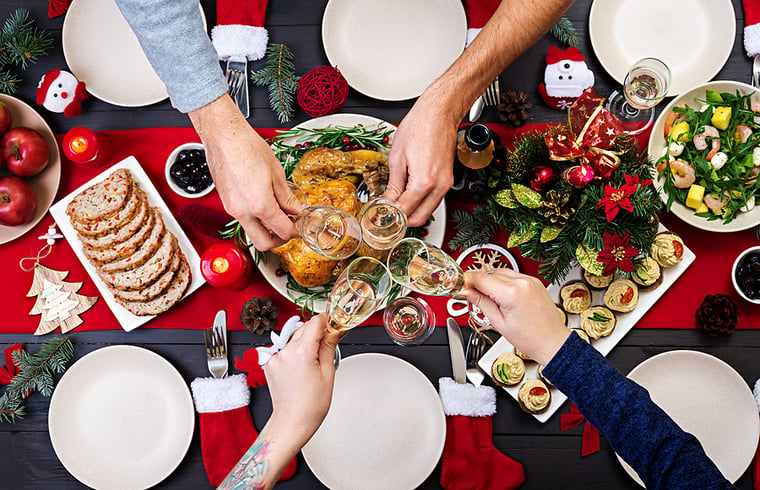 The holiday season has arrived, which means it's time to celebrate with your dearest family and friends. Hosting family gatherings, dinner parties and other festive events in your home is a wonderful way to create lifelong memories, but the hustle and bustle of planning and preparing these get-togethers can be quite a feat. To make your holiday entertaining much easier and more enjoyable, make sure you have these holiday entertaining essentials on-hand:
Must-haves for Holiday Entertaining
Oven-to-Table Dishes
Whether you're preparing a five-course meal or simply whipping up a few treats, all hosts and hostesses should have a few oven-to-table baking dishes on-hand. These useful resources allow you to cook and serve foods straight from the oven to the dining room table without the need for additional serving plates. Not only does it give you a convenient serving option, but it also decreases the number of dishes you'll have to clean!
Special Dining Table Sets & Décor
While you could use your everyday flatware and dishes, we suggest having a special set of plates, bowls, silverware, and table décor specifically for holiday entertaining. Crystal or stemmed glassware, white dishware, table candles, a seasonal centerpiece, vases for flowers, holiday-themed cloth napkins, a beautiful tablecloth — from functional to fashionable items, you can dress your dining table up any way you like to make it especially festive for your guests.
Smart Lighting System
When dining at night, creating an inviting atmosphere that provides the right amount of lighting is key. Consider installing a smart lighting system in your dining areas that gives you full control over the temperature, brightness, and color of the lighting. Using LED bulbs instead of fluorescents can cut down the harshness of the light, especially when you can dim the lighting as you see fit. Consider using a few colored bulbs as well to accent the space with festive ambiance.
Smart Speaker System
You can't have a festive celebration without holiday music! Install a smart speaker system or integrate a portable smart speaker into your dining area to fill the space with cheery music! Smart speakers allow you to control the music verbally, so you don't have to spend time looking for a remote.
Window Shades
If you're hosting a holiday gathering in the daytime, you'll want to make sure your home is as comfortable as possible. If you're cooking or baking, the heat from the kitchen can make the temperatures in your home warmer. Lots of sunlight streaming through your windows can increase the heat. With window shades, you can control the heat and brightness to ensure maximum comfort for you and your guests. Not only do they block sunlight and glare, they also block UV rays, which protects your furniture and décor from fading. To schedule a free consultation today, contact us at 702-260-6110.