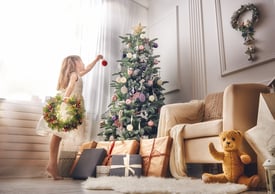 You don't need another reminder. You know it's already December. You know you're way behind on your holiday decorating. And you know if you started right this second and worked for 24 hours straight, you'd still be behind.
But you're thinking in terms of your usual holiday decorating routine. With a late start, it's time to make some trade-offs. Namely, it's time to scale back. But this doesn't mean your home has to feel any less festive.
In fact, many people who have found themselves in a similar time crunch realize they enjoy the "holiday light" look of their home. And they certainly don't miss the time and energy it takes to haul out the holiday boxes and sort through them before taking days (and sometimes weeks) to get their home looking worthy of a Norman Rockwell Christmas portrait.
These are the people who follow four "holiday light" decorating tips from top interior designers – and then who often begin a new holiday tradition in their home. Consider:
Select one theme – and only one theme – and stick to it. Many people go a little crazy around the holidays because, more often than not, they bring it upon themselves. Say goodbye (and maybe good riddance) to a formal theme in your living and dining room, Santas in the family room and snowmen in the kitchen. Pick one theme and use it everywhere. You'll lighten your load immensely and immediately.
Cut back to one color and one tree. Simplification has many virtues, especially if you extend the "one theme" rule and adapt it to your color scheme and choice of tree. Americans have gone a little "tree crazy" the last 10 years, with some people putting one tree in every bedroom and even every room in their home. Return to the Norman Rockwell notion of one tree being the family focal point.
Emphasize fresh greenery. The key here is to find a local store that carries a variety of greens: wreaths, mantel pieces, centerpieces (large and small) and garland for stairways and railings. The natural elegance and fragrance of fresh greenery should more than compensate for going "holiday light."
Fill in with – and fill up – hurricane vases. Here's an idea whose time has come, even for people who have plenty of time to decorate: hurricane vases. Fill them with small but cheery holiday items such as ornaments, pine cones, a strand of battery-operated lights or (if it's not too tempting for the little ones) candy canes. Hurricane vases come in all sizes, so in addition to their stylish look, they can help you fill in areas where "holiday light" has resulted in a few holiday gaps.
Before you call it a wrap, don't forget to ensure that your windows provide the best "frame" for your holiday handiwork. Schedule a free consultation with the window experts at Polar Shades and see what they can "unwrap" for you in terms of new fabrics, colors and styles. New shades from Polar Shades could be the best gift you give to yourself this season, call 702-260-6110 for a free in-home estimate today.