Fall is in the air and it's not too late to get your home ready for the trick-or-treaters that will be knocking at your door by month's end. Redecorate your entire home for a Halloween party or simply add a few tasteful accents to keep your place in season with these Halloween decorating ideas. These Halloween decorating ideas are simple and fun for your family and your guests.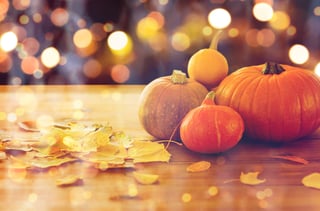 Create Creepy Window Treatments
If you've talked to Polar Shades, you have the best built shades for your home and while you may not want to damage them for Halloween, you can still dress them up for the season. Those with interior shades can create other-worldly vignettes using black paper or vinyl wraps of ghosts, witches, and bats. If you have exterior shades, you can still decorate windows with cobwebs or orange lights.
Have a Halloween Mash-Up
Love Christmas but hate waiting until after Thanksgiving to start decorating? Pull out the tree early for a Halloween in "Nightmare Before Christmas" fashion. If you have an extra plastic tree, spray paint it black and adorn it with purple garland and moss. Add some creepy ornaments and you have a fun focal point for your home. Decorate the fireplace with stockings decorated to be monsters and plenty of gourds. Get in the holiday spirit by mixing up these two beloved holidays.
Add a Dining Room Centerpiece
It's not out of the ordinary to feature a cornucopia in the middle of the table for Thanksgiving dinner so why not incorporate a centerpiece during Halloween? Decorate with skulls, pumpkins, or ghosts to dress up your drab dinner table. Repurpose a candle holder with orange and black candles, adding dangling moss and fake spiders. Or replace your table cloth with black linen and spider webs. Make each meal ghoulish fun with an inventive centerpiece for your table this season.
Light Up Your Yard
Make those Christmas lights pull double duty this year by decorating your yard with a Halloween display. Purchase plastic trick-or-treat jack-o-lanterns and set flashing lights inside to create a fun and innovative Halloween display. If you want something scarier, use a white sheet to form a party of ghosts in your front lawn and use your lights to illuminate them at night. Getting your home decorated for Halloween will delight your visitors.
Embrace your inner demon this Halloween by decorating your home for little ghouls and goblins and if your window shades are looking ghastly, you don't have to wait until after Halloween to make a change. Polar Shades will help you find the perfect window treatments and even install them for you. Halloween is just around the corner so start decorating and updating your home today. When you're ready to install window shades in your home call Polar Shades at 702-260-6110 for a free in-home consultation.
---
---