Winter's woes are behind us and it's time to start sprucing up for spring. If you're like most, you have a ton of things you'd like to do to your home but tackling these tasks can be incredibly overwhelming. We've comprised this quick guide to help you get started with your next home decor projects.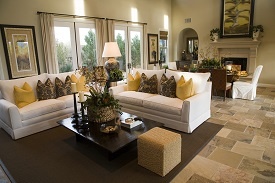 1. Look Around and Make Notes
What's prompted you to want to change your decor in the first place? Is there something you don't like? Are there items you can't live without? Are you looking for a place that makes you feel more comfortable? Perhaps you're searching for cleaner lines and a more open feeling; start with what's already there as your canvas.
2. Brainstorm a Wish List
If money were no object, what would you do? Make a list as long as you can, writing down everything you'd love to do to your home. You can whittle it down with realistic expectations later, but this is a great guide for inspiration. You'll likely find affordable workarounds for expensive things you wouldn't otherwise do.
3. Allow Time
This isn't something you want to do in a day or two. If you don't allow proper time, you'll wind up frustrated with partially-completed projects. Instead, plan to re-do your home over a set amount of time.
4. Collect Pictures
Browse Pinterest, check out magazine articles, and look online for inspirations. Be sure to save the images that really speak to you, as these can be excellent foundational pictures when you're ready to get going.
5. Repurpose Pieces You Love
Reupholster old fabrics, stain wood, or paint metals. If you have items you love, but don't love the way they look, give them a new face.
6. Work in Sections
Once you know the general look you're going for, you can work in pieces to preserve your budget. Start by finding new furnishings (or reupholstering your existing furniture). From there, you can paint the walls to match your new aesthetics. Accessories can be last, as you can put them in at any time.
7. Don't Forget Your Window Treatments
People often think of their window treatments last, but these are very important details in the home. They bring everything together, allowing sunlight in but still offering privacy.
The look, feel, and functionality of window shades will change the mood of a room. All window treatments are not created equal. If you opt for motorized shades, you'll easily be able to let light in (or keep it out). The amount of light in your room will directly affect the feeling it exuberates; it's great to be able to change it up at the click of a button.
Window shades are the highlight of a home's interior. Polar Shades Sun Control has been the premier window shades manufacturer and dealer since 1995. Request your free quote or call us at 877-260-6110 today!