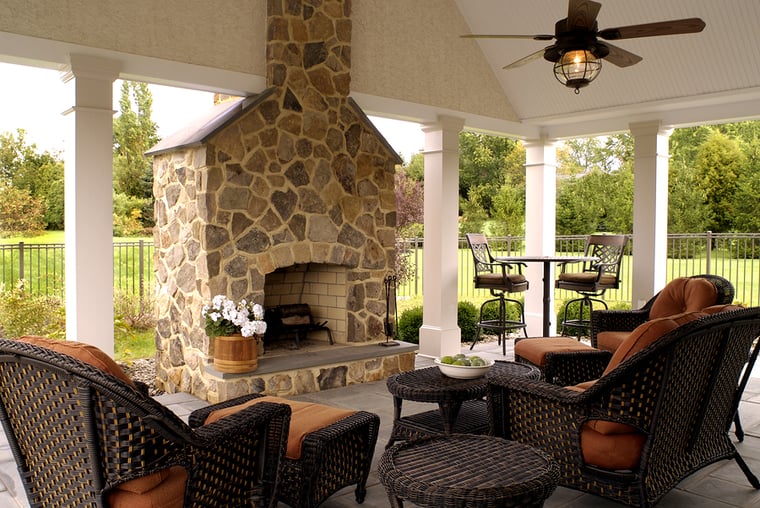 An outdoor living space extends the useable space of your home and creates a natural, relaxing place to entertain family and friends. In order to realize the full potential of an area, there are a few fundamental elements that every outdoor living space should have.
Essentials for a Functional Outdoor Living Space
Outdoor Kitchen & Dining Area
An outdoor kitchen and dining area add a great amount of functionality to an outdoor space, and they don't need to be fancy. While a built-in grill is nice to have, a charcoal one will cook up food that's just as tasty (and even better according to some). For seating, anything from a basic picnic table to plush year-round furniture will suffice.
Area for a Fire
If local laws permit it, incorporate a fire pit or fireplace into your outdoor living space. Such a feature will extend usability into the evening hours and encourage company to linger. Everyone enjoys sharing stories over the warmth of a fire.
Overhead Roof
To further increase when you can use the space, top off your outdoor living area with an overhead roof. A covered porch or a gazebo will let you relax outside even when there's a light rain or other moderately inclement weather. Polar Shades offers retractable awnings that allow you to have cover whenever you want it, without having to worry about unsightly beams.* They can be mounted virtually anywhere and come in widths of up to 40' and projections that reach as far as 14' 6".
*Only available for residential customers in Las Vegas, NV and Phoenix, AZ.
Landscaping Features
For decor, embrace your outdoor living space's surroundings by adding natural landscaping features. Plants of all types are excellent choices, and there are different options for all types of climates. Water is also a beautiful feature to have, as it adds life to desert areas and embraces natural bodies of water in more wet regions. Ponds, fountains, pools, and streams are all different ways to incorporate water into a design.
Exterior Shades
An outdoor living space that has exterior shades will be more comfortable to use, as the shades can block the sun, glare and harmful UV rays. This reduces heat gain and protects your outdoor furniture and décor from fading.
The ZipRite Shade is a revolutionary exterior shade that has no gaps between the fabric and the track. When extended, the ZipRite creates a fully enclosed outdoor room that is safe from bugs debris and inclement weather.
For more information on our exterior shades and retractable awnings, contact us today at 702-260-6110 for a free consultation.