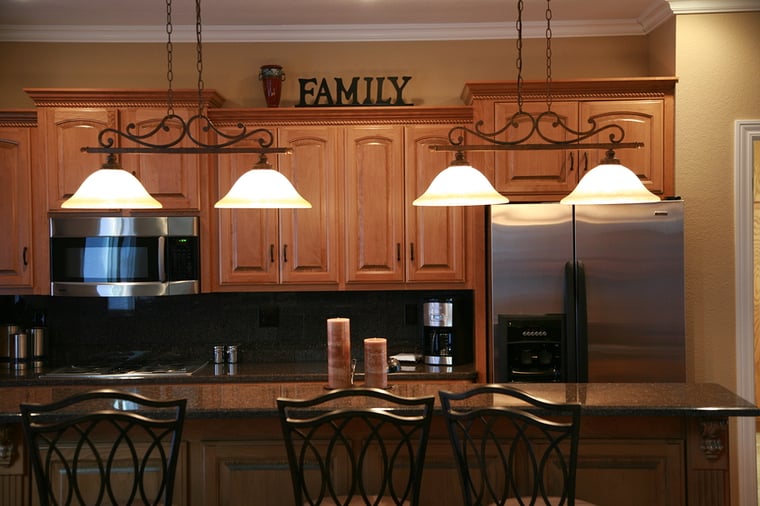 Lighting is a critical part of any kitchen design, and pendant lights are sometimes considered the "jewelry" of kitchen lighting. They can create a gorgeous aesthetic that changes the whole look and feel of a room. The right kinds of pendant lights can play a practical role as well. There are so many different options when it comes to pendant light function and style, choosing the best ones for your kitchen design is often a challenge. Here are a few of the most important things to consider:
Choosing the Best Style
First, it's important to understand that pendant lighting comes in four basic forms: accent, task, ambient, and decorative. Accent lighting is usually used to highlight a certain design feature in your kitchen, like a beautiful stone or natural wood countertop.
Task lighting is used to illuminate a specific area of the kitchen so you can clearly see what you're doing. If you're a fairly serious chef, you'll want great task lighting over your island and any other prep areas. Generally, lights that aim downward and have an open or clear bottom work best for task lighting.
Ambient lighting, on the other hand, provides general illumination, making it the opposite of task lighting. This sets the general mood for the room. If you use your island more for entertaining than for prep work, you might choose ambient instead of task lighting for this area.
The final type of pendant lighting is decorative, meaning that this is its primary purpose. The decorative element can come from the lighting fixture itself or from the sparkle, glow or shadow it creates.
When choosing your pendant lights, you'll want to consider the overall effect you want to achieve. Also remember that it is possible to find lights that fit into multiple categories. For example, you may look for a beautiful decorative pendant that also provides functional task lighting.
Get the Height Right
The best height for your pendant lights also depends on the purpose. Generally, the higher the lights are, the less targeted light they'll provide. For this reason, you'll want to keep task lights no more than 30 to 36 inches above the work surface. Since this could put the lights in the line-of-sight, you might want to choose fixtures that are slim and unobtrusive for this purpose.
Decorative lights can go up a little higher. In general, you'll want to put them 12 to 18 inches from the ceiling in an 8-foot room. If your kitchen has higher ceilings, add an extra 3 inches for each foot.
Create Your Unique Look
Depending on the size and style of your kitchen, you may also combine several different pendant lights. For example, choose a simple design for your task lighting and then add a decorative chandelier. Just be careful not to mix too many different styles as this can be distracting. Try to stick with no more than two different kinds of pendant lights and keep the styles similar.
If you want to add more visual interest, try installing window shades in a color that contrasts well with the rest of your color scheme, then installing pendant lights in the same color as your window shades. This will tie in that contrast throughout the room and add more dimension to the space.
For more information on window shade options and installation, contact us at 702-260-6110 to schedule a free consultation today.